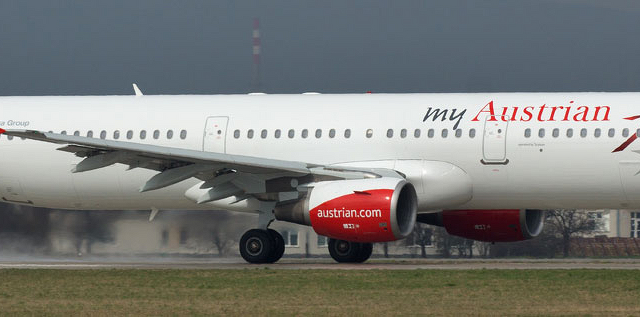 New air fare concept: 54 percent of passengers select Light fare
Business class on the Airbus fleet will be upgraded, more seats
Growth in the long-haul segment: 14 percent more passengers in 2014
Austrian Airlines is systematically implementing the growth strategy introduced in May. The cornerstones are investments in its product and fleet, expansion of long-haul flight services and a new air fare model for continental flight traffic. Austria's national carrier has no longer been separating passengers in Economy and Business Class since October 1, 2015, but gives them greater freedom of choice.
"The initial results show that a new air fare system was long overdue. Our new offering enables us to reach especially price-sensitive customers who previously flew with competitive airlines, for example city travelers and weekend tourists", explains Austrian Airlines Chief Commercial Officer, Andreas Otto.
The majority of passengers fly "light" and only with hand luggage
The flag carrier has carried out an initial assessment close to three months after the introduction of the new air fare concept for all Austrian and European flights: 54 percent of the passengers choose the Light fare i.e. the basic air fare plus carry-on baggage, with one-quarter of these people paying to check in luggage. 43 percent of the customers select the Classic fare which includes many services such as a free baggage allowance. About one percent of the passengers decide in favor of the Flex fare, which offers the possibility to rebook flights at no extra charge. Two percent of the passengers, after all around 188,000 people per year, purchase a Business Class ticket. Austrian Airlines now wants to literally "pep up" its Business Class in order to attract more financially strong customers.
"Our new Business Class is very attractive for our customers in the long-haul segment, but this appeal is missing on the continental fleet. In this case we will have to spend money in order to significantly improve the product", Andreas Otto adds.
The new air fare concept enables customers to book customized tickets. These fares encompass different services. Customers can flexibly book additional services on an individual basis depending on their specific wishes. They can choose between a Business Class and three Economy Class fares i.e. Light, Classic and Flex. Customers no longer pay for an entire product regardless of the individual services they take advantage of, but only pay for those services they want to use. Ticket sales based on the new air fares began on July 28, 2015 for trips as of October 1, 2015.
Austrian Airlines invests in Business Class comfort in the Airbus fleet
In October 2015, Austrian Airlines already commences work on revamping the cabin interiors of 29 Airbus A319, A320 and A321 aircraft. The complete reconfiguration will be carried out at a cost of about EUR 25 million and be concluded in 2017. The main changes involve an improvement in Business Class comfort entailing greater seat spacing and higher quality seat cushions. Seat spacing will be increased by two inches (five centimeters), from 30 inches (76.2 cm) to 32 inches (81.2 cm). The required space will be compensated by narrower kitchens and smaller storage space for the board equipment. The free adjoining space in Business Class will remain unaffected by the cabin renovation work.
At the same time, seats spacing in the Economy Class of the seven Airbus A319 and the 16 Airbus A320 aircraft will be reduced by one inch (2.5 cm), from 30 inches (76.2 cm) to 29 inches (73.7 cm), thus corresponding to normal European standards in the airline sector. The renovation of the washrooms creates additional space due a new arrangement of the toilets, so that Austrian Airlines will be able to add one row of seats in the Economy Class. Accordingly, the number of seats on the Airbus A320 aircraft will rise from 168 to 174. This means a capacity increase of 138 seats for the entire Airbus fleet, an increase of three percent or an entire medium-haul aircraft. The Airbus A321, Embraer, Fokker and Dash fleets will not be impacted by the changes in the Economy Class.