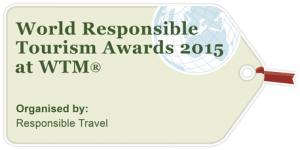 A worldwide campaign to end canned hunting, a tour operator offering locally-led alternative city tours and a mangrove conservation and education project in Madagascar are among the organisations included in list of finalists for the 2015 World Responsible Tourism Awards at WTM. But who will take the gold?
After intense debate by the judging panel, 37 organisations have been chosen across 12 categories, recognising achievements from animal welfare campaigns to accessible tourism practices in one of the most diverse lists of finalists the World Responsible Tourism Awards has ever seen. The organisations, which range from tourism industry giants such as TUI Travel UK & Ireland, to tiny individual enterprises such as Cnoc Suain in Ireland, or Felin Talgarth Mill in Wales, UK, are based in 20 countries worldwide, with Cyprus, Hong Kong and Finland represented for the first time ever.
The World Responsible Tourism Awards 2015 Finalists:
&Beyond
Agri Tourism Development Corporation
Aruba Tourism Authority
Atlas Kasbah Ecolodge
Bushmans Kloof Wilderness Reserve & Wellness Retreat
Campaign Against Canned Hunting
Cnoc Suain
Connemara Wild Escapes
Coral Cay Conservation
Cyprus Tourism Organisation
Endeavour Safaris
Felin Talgarth Mill
Gansbaai
Grootbos Private Nature Reserve
Hetta Huskies
Hong Kong Airport Authority
Honko Mangrove Education & Conservation
LooLa Adventure Group
Loophead Peninsula
Lotus Travel AB
Matava Resort
North Island Seychelles
North Sailing
OneSeed Expeditions
RuralSuite Hotel-Apartamentos
Scandic
Shangri-La's Vilingili Resort & Spa, Maldives
Soneva
The Donkey Sanctuary
Tiger Trails Jungle Lodge
Travel for Wildlife
TUI UK & Ireland
Turtle Bay Beach Club
Uakari Lodge
Ullswater Steamers
Uncornered Market
Urban Adventures
Commenting on the entries received this year, managing director of Responsible Travel, and founder of the Awards Justin Francis says "In our entries this year we've seen organisations clearly influenced by the work of our previous winners, for example city tours run by homeless guides. It is our responsibility to find those inspirational people again.
"Looking at our hugely diverse list of finalists this year, I think we have found these people. The organisations in the list really prove that responsible tourism is viable and can be successful in all types of tourism, from niche to mainstream.
"These organisations are the shining stars of responsible tourism."