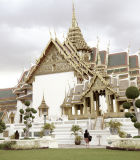 The police has ordered a hunt for the individual who placed a suspicious-looking object in front of the Royal Thai Police headquarters.
Today the Danish Foreign ministry has asked Danes not to be in Bangkok on large places, museums and official buildings and where people gather.
The location is not only in the heart of Bangkok, but in the vicinity of the ASEAN Foreign Ministers Meeting at Centara Grand hotel. The premier called on members of the public not to panic and have confidence in the authorities who will bring the situation under control.
The premier called on the police, military and people to remain vigilant and watch out for any ill-intentioned persons.
The suspicious-looking object was found in the bushes next to the signboard of the Royal Thai Police headquarters in Pathumwan district of Bangkok. According to footage from a CCTV camera and passers-by, a thin man wearing a yellow shirt, black pants, black sneakers, a hat and a face mask and carrying a backpack loitered there for a short while and dropped the object. Then, the man walked toward Chalerm Phao intersection.
In total five bombs went off last week in  Bangkok