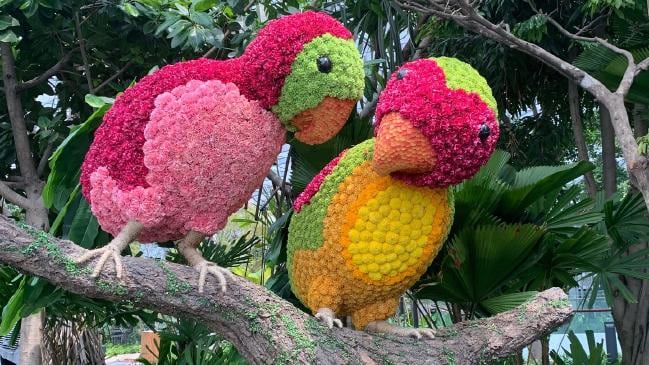 Well, you could own more than 2100 average homes in Sydney. If cars are more your thing, you could buy 1800 Lamborghini Huracan Spyders and still have cash leftover for fuel. Or perhaps you're into travel, in that case — you could fly first class return to London with Qantas more than 120,000 times.
But it can also buy you the world's biggest indoor waterfall, a Pokemon centre, your very own hot chip cafe called "Potato Corner" and a 130-room hotel — all under the one roof.
Welcome to Singapore's newest hub at Changi Airport, where simply being voted the best in the world isn't quite good enough, and so a Jewel among four terminals is created.
On Thursday, Singapore opened the doors to Jewel — a development five years in the making to their already outrageously big airport.
Stretching 10 storeys high — with four of those being a lush rainforest — the complex spans over 137,000 square metres to connect terminals one, two and three to a central hub. The astronomical extension, which has been built over an existing carpark, is like another world and a destination for tourists in itself. It's almost like stepping in to a scene of Jurassic Park.
Walking through the doors of Terminal 1 and into the Jewel, the concept behind the dome feels like the love child between a marketplace and a garden. There are 2000 trees and thousands more flowers and shrubs covering the walls as high as the eye can see.
The waterfall in the centre of the dome is the big drawcard of Jewel.Source:Supplied
As you wind around each floor, the air is filled with the sound of flowing water from every corner. But in among the greenery is the hustle and bustle of shops and restaurants, a movie theatre, a Pokemon centre and even a 130-room hotel.
It's turning the "get in, get out" concept of airport travel on its head and a game changer only Singapore could pull off.