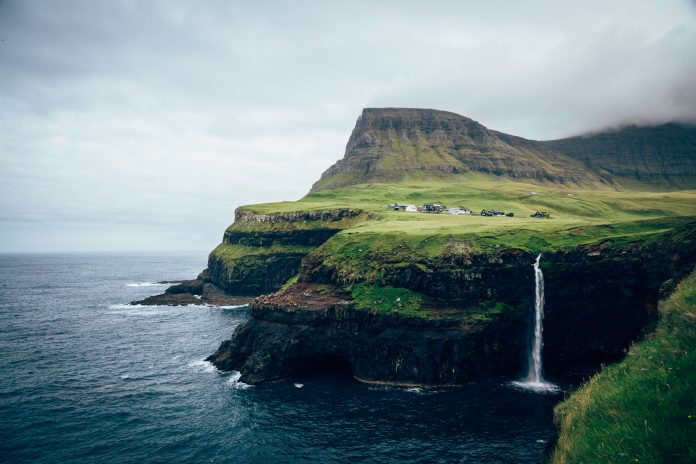 Many families dream of traveling to destinations lost to time, mystical locales like Brigadoon that materialize only for those willing to suspend disbelief. For many families seeking the unknown, that enchanted realm is the Faroe Islands, an extraordinary archipelago of 18 isles in the North Atlantic that evokes a storybook escape of grass-roofed houses and grazing sheep with flocks of puffins and oystercatchers soaring above spectacular waterfalls that plunge into sapphire lagoons.
On the other hand, paradise for some intrepid adolescents might be the breathtaking vistas realized at the 1,500-foot summit of a snowshoe hike on the Greenland ice sheet, followed by a glacier cruise on Ice Force One into the second-largest fjord in the world.
Then again, maybe teenage adrenaline is best released at the wheel of an ATV speeding 50 mph over a black-sand beach and into the lava fields of southern Iceland. An adolescent thrill that could only be topped by the ingestion of fermented shark — a local Icelandic delicacy, which Anthony Bourdain described as the most disgusting thing he'd ever eaten — and then, for the adults, chased with a shot of fermented potato schnapps known as Black Death.
In other words, when families travel into the west Nordic region with the North Atlantic Tourism Association, adventure is a given, especially for budding aviators who live for flights that skirt some of Europe's highest sea cliffs. From the air, the Faroe Islands resemble Brobdingnagian bones or shimmering shards of submerged emeralds bobbing in the ocean midway between Iceland and Norway.
Formed by volcanic eruptions more than 50 million years ago, the Faroes retain a rugged, rocky terrain with craggy cliffs. They are some of the world's most remote locales. The population hovers around 50,000 people — alongside 70,000 sheep (that sustainably mow the grass in the verdant valleys).
Of late, Faroese national airline Atlantic Airways has been supplemented by private planes, many of which are flying in for a meal at Koks, the Faroe Islands' first Michelin-starred restaurant. Opened in 2011 by head chef Poul Andrias Ziska, the forage-based restaurant has generated global accolades for its ingenious indigenous cuisine.
Recently relocated to an 18th-century farmhouse alongside a pristine lake on the island of Streymoy, the remarkable dining experience commences inside a modified hjallur, a Faroese drying house for fermenting meat and fish — albeit one that has been retrofitted for comfort and culinary pleasure. Ziska has assembled a stellar global kitchen of young creative chefs who forage the hills and valleys and sea and then render the bounty into a somewhat miraculous, 18-course tasting menu that might include horse mussel, sea urchin, seaweed, langoustine and lichen.
While many people imagine the much-photographed puffin to be the national bird of the Faroes, it's actually the oystercatcher, and one of the best ways to witness them in flight is along the vertiginous Vestmanna bird cliffs. Families clamor aboard boat tours that maneuver through mighty swells and narrow straits on their way to the grottoes where thousands of seabirds swoop and dive from caves and cliffs. Even the most jaded adolescent succumbs to the dazzling terpsichorean display.
Vestnorden Travel Mart takes place September 23-26 in the Faroe Island