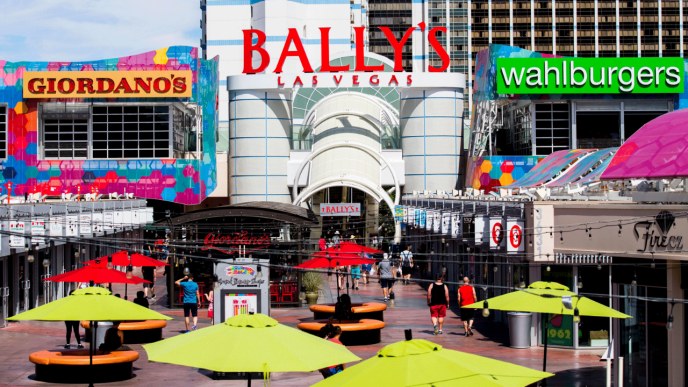 Bally's on the Las Vegas Strip is being rebranded as the Horseshoe, gaming operator Caesars Entertainment announced today.
The transformation will begin this spring and should be completed by the end of the year. It will include a renovated exterior, new entertainment and dining options, and a reimagined casino floor, the company said.
The property will remain open during the renovation, Caesars officials said.
"Bringing the Horseshoe brand back to life in Las Vegas allows us to celebrate both our history and our future," said Sean McBurney, regional president of Caesars Entertainment.
The redesigned casino will incorporate "a handcrafted feeling with tooled leather, dramatic colors, and the brand's signature gold horseshoe iconography," Caesars said in a statement. Additional details will be released as the project unfolds.
Caesars recently announced that the Strip property would be the new home for the World Series of Poker, which started at the old Horseshoe — now Binion's — in downtown Las Vegas. The poker room will be expanded and renovated as part of the rebrand, according to Jason Gregorec, senior vice president and general manager of the casino resort.
"We couldn't be more excited to see the World Series of Poker return to Horseshoe," said Ty Stewart, senior vice presidentand executive director of the World Series of Poker.
"Horseshoe is where it all began for WSOP. It's always been a brand for gamblers and card players. As we move WSOP to the Las Vegas Strip for the first time, that it will happen at Horseshoe makes it incredibly special," Stewart said.
The 53rd annual World Series of Poker will be played May 31 to July 19, just as the property begins construction.