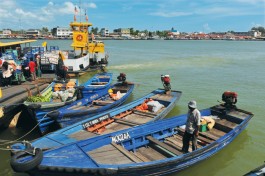 The foreign tourism offices in Scandinavia, Finland and the Baltic states are up for renewal.
Malaysia Tourism will close their office in Stockholm, covering the Nordic and Baltic States this April 1.
The staff has been fired and the Malaysian staff gone back to HQ.
The responsibility will be left with Malaysia Tourism in Holland, who will take over this area too.
The German Tourism office in Copenhagen, covering Northern Europe and Russia has been forbidden to participate in any travel shows by HQ in Frankfurt, so this year in Herning with Danish Travel Show was the last one.
The director of Visit Greenland, Anders Stenbakken will leave the office and go back to Denmark and a new director will hopefully be in place August 1. to host this year`s Vestnorden Travel Mart in Nuuk in Greenland in September.
Here are the wishes for the new one:
Visit Greenland A/S, Grønlands nationale turistråd som er ejet 100% af Grønlands Selvstyre, søger en ny direktør. Visit Greenlands mangeårige direktør har valgt at søge nye udfordringer, hvorfor der søges en ny direktør med såvel gode ledelsesmæssige som innovative evner i et visionært og kreativt selskab.
Visit Greenland varetager turismeudvikling og markedsføring, samt eksponering og branding af Grønland, dette i et tæt samarbejde med turismeerhvervet, de regionale turismeorganisationer samt Naalakkersuisut.
Der søges en direktør med tiltrædelse 1. august 2017, eller snarligt herefter.
Vi tilbyder en lederstilling
med en dygtig og engageret medarbejderstab – med nye udfordringer inden for udvikling af turismeerhvervet, hvor nye oplevelsesprodukter er under udvikling, og hvor turismeudviklingen kobles med planlagte større infrastrukturprojekter samt landets vej mod økonomisk bæredygtighed.
med udvikling af nye former for markedsføring,
med mange relationer i indland og udland.
Vi forventer, at du
har en relateret højere uddannelse samt god indsigt i ledelse,
har en baggrund i turismeerhvervet,
er i stand til at lede og begejstre dine medarbejdere, samtidig med at du, med et demokratisk udgangspunkt, respekterer og bruger de kompetencer, der er i organisationen,
har erfaring med at arbejde i en projektorganisation og med projektledelse
kan sikre den daglige drift, administration og økonomi,
kan organisere projekter og stå for udvikling og kreativ innovation,
er udadvendt, lyttende og iderig i dit samarbejde med lokale turismeorganisationer, kommuner, turismeerhvervet, internationale samarbejdspartnere samt turismens nationale beslutningstagere på politisk og administrativt niveau,
er opsøgende, kommunikerende og lydhør overfor nye udviklinger i erhvervet og overfor ny viden om turisme,
er i stand til at navigere med diplomatisk snilde i et miljø, der på den ene side er præget af en lang række forskellige erhvervsinteresser, og på den anden side politisk styrede systemer og beslutningsfora,
er i stand til at begejstre, så Visit Greenlands turismeudviklingsideer vurderes og afprøves,
godt kendskab til og praktisk erfaring med branding og online,
har en god forståelse og viden om det grønlandske samfund, dets kultur og historie, samt
behersker grønlandsk, engelsk og dansk på forhandlingsniveau.
Vi forventer at du personligt,
er åben for mangfoldighed,
er motiverende og inspirerende,
har interesse for medarbejdernes professionelle og personlige udvikling,
er kreativ og visionær, samt
pragmatisk, med et realistisk syn på situationen og branchens fremtid.Ansøgningsfristen er tirsdag den 12. april 2017 kl. 12 vestgrønlandsk tid.
Vil du vide mere, er du velkommen til at kontakte bestyrelsesformand Kenneth Høegh på telefon +299 565604.