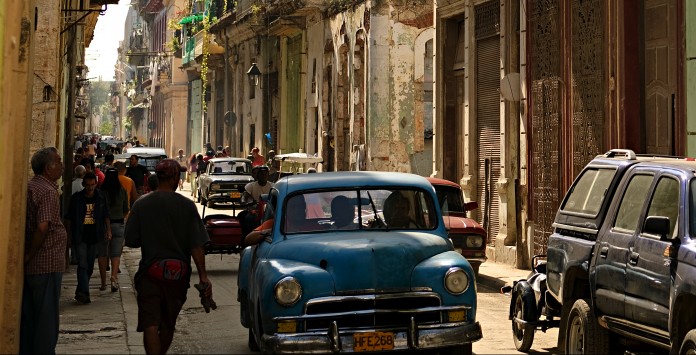 Cuba visitor numbers in 2015 hit the two million mark on July 10. Cuban officials predict that year-end totals will surpass the three million number reached in 2014.
"We're certain, this is the tip of the iceberg in what's going to come in the years to come," says Arnold Donald, CEO, Carnival Corporation, to Associated Press after Carnival plans to offer trips from Miami to Cuba.
Arnold Donald called the Cuba plans "an important first step" for his company and for the cruise industry.
"Cuba is perhaps hotter than ever right now. For this winter we have expanded the number of seats to the destination with 35 percent. Already in the spring we saw increased demand for Cuba trips. Now more than 6 out of 10 trips are booked this winter, which is over 20 percent more than last year at this time.  Many want to experience the "old" Cuba before it is too late," says Anna Hagberg, Ving, Sweden.
Ving has charter flights and package holiday with scheduled flights to Cuba from Denmark, Sweden and Norway, 3.000 from Sweden.
"The opening to the United States can be a challenge in hotel capacity in Cuba. Depending on the investment on the island, I see clear to me, that prices will be pressed up due to increased demand," says Ole Andreas Skjønhals, director, Orkide'Expressen, Norway, with offices in Bergen and Tynset and approximately 500 travelers a year to Cuba.
"For us in Norway, which has previous challenges from weak exchange rate, it can lead to fewer travelers. While the offer to Cuba becomes larger, the country will also get increased exposure.
So in the short / long term I believe, however, that several from Norway will find their way to Cuba.
And many would take the chance to go now, before the Americans seriously begins to arrive," says Ole Andreas Skjønhals.
U.S. and Cuba has officially established banking relationship between Banco Internacional de Comercio and Stonegate Bank in Florida.
The move simplifies matters for tour operators, allowing them to pay for visas for their clients by check or credit card rather than in cash.
The new relations between USA and Cuba means new charter airlift from New York and Houston, expanded lift from Florida gateways, and approval for several companies to begin passenger ferry service between Florida and Havana.
Haimark Line plans to begin cruises from Miami to Cuba. MSC Cruises will deploy MSC Opera in Cuba for the winter, and New York-based airline JetBlue will offer weekly flights from JFK airport to Havana, the first carrier to announce a new service since restrictions were eased.