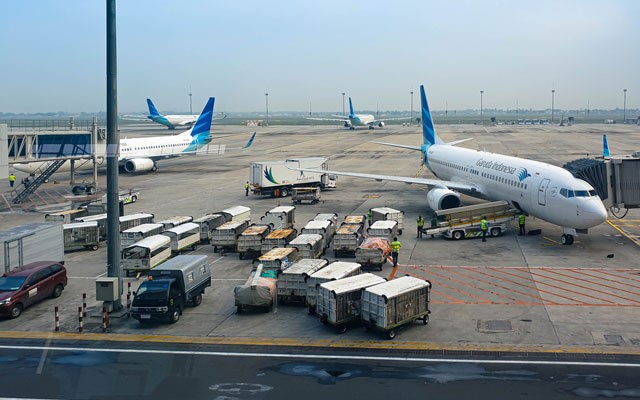 The Indonesian government has prepared contingency plans to rescue the embattled national carrier Garuda Indonesia, including an option to liquidise the airline should restructuring programmes fail.
According to various news reports, Pelita Air Service, a subsidiary of state-owned oil company Pertamina, could take over Garuda's domestic routes should liquidation be inevitable.
Kartiko Wirjoatmodjo, deputy minister of State-Owned Enterprises, said that the debt negotiations and restructuring was underway with all lenders, aircraft lessors, and global sukuk (syariah bond) holders.
"Should the restructuring fail, we have no other option but to close it and find a new (national flag carrier) as it is impossible for (the government) to inject capital with such debt value," he added.
Facing its worst crisis since its inception in 1947, Garuda's debts have hit 70 trillion rupiah (US$4.9 billion) and may continue to increase by one trillion rupiah each month due to continued delays in payments to suppliers.
Garuda's May 2021 financial report showed that the airline only earned about US$56 million, while the aircraft rental was US$56 million, aircraft maintenance, US$20 million; fuel, US$20 million; and salaries, US$20 million.
The airline is negotiating terms with aircraft lessors and is talking with banks and business partners to restructure its loans, as part of a suspension of debt payment obligation process, where the entire stock of debt will be subject to negotiation.
Apart from piling up debts, Garuda is facing a number of civil lawsuits from lessors due to its failure to pay rent. Meanwhile, its inability to pay sukuk totalling US$500 million also resulted in its trading suspension from the Indonesia Stock Exchange since June.
The financial pressure on the airline will intensify amid mounting losses, especially given the pandemic's enduring impact on the aviation industry.
Besides renegotiation, Garuda has also restructured its management to improve its business performance. The airline has laid off 2,300 employees, streamlined its management team, and implemented pay cuts. It has also returned 20 planes and is negotiating to return 101 more aircraft, which will leave the carrier with a fleet size of 42.
Irfan Setiaputra, president of Garuda, said: "We have to go through a total restructuring, (otherwise) the company could face sudden termination."