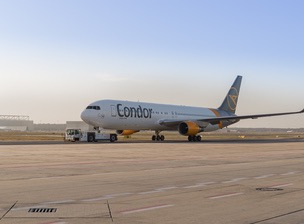 Select from more than 14 long Haul destinations
Germany's most popular leisure airline Condor starts its winter flight schedule: If white dream beaches in the Maldives and Seychelles, Caribbean sounds in Cuba and the Dominican Republic or pulsating major cities in North America such as New York City, the Condor destinations this winter season promise pure relaxation, variety and more than just a change of scenery. Holiday feelings also arise less far away: Condor is flying to Egypt, the Canary Islands and Madeira in Portugal this winter. The winter flight schedule continues to be supplemented by Yerevan in Armenia, Beirut in Lebanon and Sulaymaniyah in Iraq. Holidays with Condor can be booked with all German tour operators and in travel agencies; flight tickets are available as usual at www.condor.com and by telephone.
Caribbean, Indian Ocean or USA: Sun and beach or sightseeing and shopping?
In the Caribbean, the Dominican Republic is particularly popular this winter: Condor flies daily from Frankfurt to Punta Cana. The seaside resort is also served non-stop several times a week from Düsseldorf and Munich. The Dominican Republic awaits all holidaymakers with white dream beaches and a sun guarantee. Germany's most popular leisure airline is resuming non-stop flights to the popular Caribbean state Cuba, flying to Varadero and Holguin. In winter, Cuba offers an average temperature of 30 degrees and numerous hours of sunshine. Cancun also remains an important part of the Condor flight schedule: the favourite holiday destination in Mexico is served six times a week.
Condor also offers three dream destinations in the Indian Ocean: Mondays, Thursdays and Saturdays to the Maldives. The Seychelles are flown to every Friday and on Wednesdays, Fridays and Sundays Germany's most popular holiday airline takes off for Mauritius.
For those who prefer sightseeing to the beach, the USA and Canada are just the right choice: Condor will be flying to New York City five times a week from 8 November, on Mondays, Thursdays, Saturdays and Sundays – the city that never sleeps is a special experience, especially at Christmas time. With Condor's partner airline JetBlue, there are comfortable onward flights from New York-JFK to over 40 destinations, especially in Florida, but also beyond. Condor also offers non-stop flights to Seattle, from where guests can fly on comfortably with Alaska Airlines to over 30 destinations, such as Los Angeles, San Diego or Honolulu. In Canada, Toronto is on the Condor flight schedule several times a week.
Short-haul and medium-haul: sun just a flight away – even in winter 
The Canary Islands never get old: Gran Canaria, Fuerteventura and Tenerife are particularly popular among holidaymakers. The islands are served by up to seven flights a week from several German departure airports. Condor also offers flights to Lanzarote from Frankfurt, Düsseldorf, Hamburg and Munich. Egypt is very popular with diving and water sports enthusiasts: Condor flies to Hurghada several times a week from seven departure airports. Outdoor fans get their money's worth on the flower island of Madeira. As last summer, the short- and medium-haul programme is complemented by Yerevan in Armenia, Beirut in Lebanon and Sulaymaniyah in Iraq.
Overview of Condor long-haul flights from Frankfurt, starting this winter:
Cancún, Mexico: Monday, Tuesday, Thursday, Friday, Saturday, Sunday
Montego Bay, Jamaica: Thursday, Saturday
Puerto Plata, Dominican Republic: Wednesday, Sunday
Punta Cana, Dominican Republic: Daily from Frankfurt, Tuesday, Friday, Sunday from Düsseldorf, Wednesday, Saturday from Munich
Santo Domingo, Dominican Republic: Wednesday, Sunday
Holguin, Cuba: Sunday (from mid-December 2021)
Varadero, Cuba: Tuesday, Friday (from mid-December 2021)
Maldives: Monday, Thursday, Saturday (from mid-December 2021 additional connection on Sundays)
Seychelles: Friday
Mauritius: Wednesday, Friday, Sunday
New York, USA: Monday, Thursday, Friday, Saturday, Sunday
Seattle, USA: Monday, Thursday, Saturday
Toronto, Canada: Monday and Wednesday, Saturday