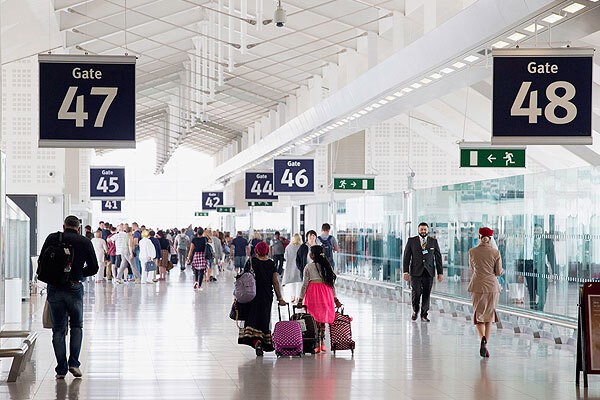 Omio survey conducted by YouGov shows almost 50% of Brits willing to take the train over plane. 57% of Britons willing to change preferred mode of transport to a more environmentally-friendly option, compared to 45% of Germans and 40% of the French. More than 90% of UK travellers think about the environmental impact of travel, up 10% compared to 2019.
A new survey conducted for Omio by YouGov shows that attitudes have shifted, with 57% of Brits now willing to change their preferred mode of transport to a more environmentally-friendly option, compared with 45% in Germany and 40% in France. While more Brits are clearly making values-based travel choices than their European counterparts, it remains to be seen whether this summer's heavy rain and flooding will influence attitudes on the continent in the future. The CO2 and time savings of travelling by train are viewable here.
45% of Britons surveyed said that they would choose trains over planes for travel based on greater sustainability, although pricing continues to be a key factor: 49% would be more likely to switch to rail travel purely if the ticket price was cheaper than flying. Almost a third of UK respondents would happily accept a slightly longer journey if it had a positive impact on the environment; 16% would be content with a journey lasting 60 minutes longer.
Back in November 2019, a Europe-wide survey commissioned by multi-modal travel app, Omio revealed that travellers prioritised time and money over the environmental impact of their journeys when choosing their mode of transport. At that time, 58% of respondents from across the UK and Europe recognised that trains represented the greenest way to travel, but 34% did not consider environmental impact when choosing how to get from A to B.
The stats from the 2021 survey indicate a 10% increase in awareness about climate change and travel choices: only 9.8% of UK respondents to the 2021 survey admitted that they never think about the impact of travel, compared to 19% in 2019.
For the budget-conscious, buses often represent the best option and in fact, one in four Brits claim to prefer buses to planes or trains if the price is right. Almost as many (22%) prefer to take the bus rather than fly if the connection is more convenient while 19% would opt for bus travel if it ended up in a faster journey overall than by plane.
To highlight the sometimes hidden benefit of taking a train or bus Omio has revealed some of the most popular routes across Europe that are quicker by train or bus than flight, demonstrating the time that could be shaved off the journey as well as the carbon emission saving, if globetrotters were to ditch the plane in favour of a bus or train. Taking the train from London to Brussels, for example, could reduce the door-to-door travel time by more than three hours versus flying, with 55% less in C02 emissions. Similarly, the journey from Paris to London is around three hours quicker by train than by plane, and also equates to a C02 saving of 55%.
Some of the UK's most popular train routes include
From
To
Faster than plane by (mins)
CO2 saving
Cost of flight
Cost of train
Cost of

bus

Plane versus train
Plane versus bus
London
Brussels
+136
68.20
£84
£124
£46
-£40

(-38%)

+£38

(+58%)

London
Paris
+108
62.90
£74
£138
£31*
-£64

(-60%)

+£43

(+43%)

London
Darlington
+67
27.20
£87
£63
£31
+£24

(+32%)

+£56

(+95%)

London
Manchester
+86
24.10
£98
£95
£13
£3

(+3%)

+£85

(+153%)

London
Bradford
+67
27.20
£98
£85
£13
+£13

(+14%)

+£85

(+153%)

London
Newcastle
+44
115.70
£87
£70
£60
+£17

(+24%)

+£27

(+45%)

London
Sheffield
+14
47.50
£98
£59
£15
+£39

(+66%)

+£83

(+553%)

London
Amsterdam
-3
63.20
£79
£114
£41
-£35

(-36%)

+£38
(+48%)
London
Edinburgh
-38
129.40
£75
£95
£39
-£20

(-24%)

+£36

(+63%)

London
Leeds
-51
36.60
43
£61
£15
-£18
(-41%)
+£28

(+97%)
Costings based upon a return journey for 1 adult on Omio site from 07/10/21 to 10/10/21, taken on 22/07/21 at 7pm
"Omio has always sought to highlight the ease of making sustainable choices by providing clear information about the cost, time and environmental impact of travel across different modes of transport," said Boris Radke, VP of Corporate Affairs at Omio. "We continue to challenge the common perception that flying is the fastest and most cost effective option and our recent survey shows there has been a shift in the ways Britons choose to travel pre and post Covid. As we emerge from a global pandemic and travel resumes, we hope to encourage consumers to consider they can support sustainable travel whilst potentially saving time and money."
"The common perception that flying is always the fastest way to get from A to B doesn't necessarily hold true once you consider the additional time required to get to the airport, queue at check-in or security and wait to board or retrieve baggage. In fact, travelling by train or even coach can be just as quick or quicker. Add to that the high quality accommodation onboard long-distance trains and coaches across Europe, which are generally equipped with comfy seats, refreshments, WiFi, tables and plug sockets, the benefits to the environment and the bigger baggage allowance and it becomes a highly attractive alternative"