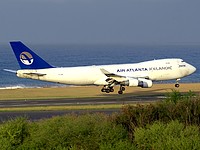 Air Atlanta, a private Icelandic airline jas been smuggling weapons from Eastern Europe to Saudi Arabia for use in Syria and Yeman.
It revealed the Kveikur program at the state television station RÚV earlier this week.
Weapon transports took place even though Saudi Arabia is embarking on an extremely bloody offensive against Shi Muslim Houthi rebels in Yemen in a conflict that has cost countless civilian lives. According to Amnesty International, war crimes are committed by all parties in the war, while Saudi Arabia is bombarded in civilian areas.
In spite of this, Air Atlanta was allowed to transport more than 170,000 land mines, 2,000 rocket launches, 850 powerful machine guns and mortar grants and large amounts of ammunition to Saudi Arabia, reports RÚV.
Prime Minister Katrín Jakobsdóttir of the Green Left Movement, who joined in November, has stated that the government has refused to renew Air Atlantic's permission to transport arms.