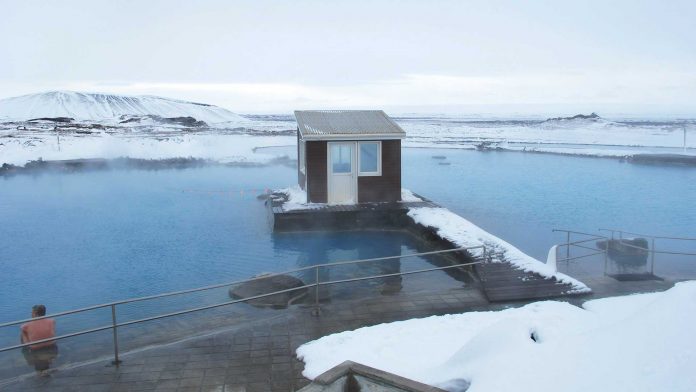 At a press conference the Icelandic Prime Minister Katrín Jakobsdóttir announced that from June 15, the 14 day quarantine will not be mandatory for passengers arriving at Keflavík International Airport.
Instead, tourists and Icelandic residents entering the country will be given the option of being screened for the novel coronavirus.
After being screened at the airport, arriving passengers will go to their overnight accommodations, where they await the results. In addition, every arriving passenger will be asked to download the COVID-19 tracing app "Rakning C-19" which helps authorities trace the origin of transmissions.
Thordis Kolbrun Reykfjord Gylfadottir, Minister of Tourism, Industry, and Innovation says: "When travelers return to Iceland we want to have all mechanisms in place to safeguard them and the progress made in controlling the pandemic. Iceland's strategy of large-scale testing, tracing and isolating have proven effective so far. We want to build on that experience of creating a safe place for those who want a change of scenery after what has been a tough spring for all of us."
The proposed border opening depends on the continued decline of cases in Iceland. At this point, only three cases of the virus have been diagnosed in May, only 15 individuals have the virus in Iceland, and more than 15% of Iceland's population have been tested. Authorities stated it could also be implemented earlier than June 15 if preparations go well, and the number of cases remains low. The testing may be used toward further research of the novel coronavirus and COVID-19.
While a provisional date of June 15 has been set, the prime minister said the new regulations could be introduced earlier if preparations go well and the number of confirmed COVID-19 cases stays low.
Of course, getting to Iceland when the borders do reopen for tourists is by no means a simple task. Many global airlines remain almost entirely grounded. Norwegian Air will remain in "hibernation mode" until 2021, while British Airways have said that no meaningful service will resume before July.
Much will depend on the schedule of Icelandair, but at the time of writing the airline is operating just three routes, to and from Boston, London Heathrow and Stockholm. While an expected increase in demand should lead to more flights, the airline is currently battling to save itself from bankruptcy.
Icelandic tour operator Arctic Adventures has acquired Icelandic tour company Into The Glacier, adding the world's largest man-made ice cave to its growing number of attractions.
The move represents a considerable increase on the overall number of tours which Arctic Adventures oversees in Iceland on a yearly basis. The tour operator, one of Iceland's largest, currently welcomes about a quarter of a million guests per year. The deal to add Into The Glacier (63,000 yearly guests) to 'the Arctic Family' will boost this number by over 25%.
Arctic Adventures currently has 260 employees on its books, and the new procurement will add an additional 45 to that head count. This growing workforce will be needed, as it is predicted that 2.2 million tourists will visit Iceland in 2019.
The past year has represented a significant period of growth for Arctic Adventures, having merged with fellow Icelandic tour operator Extreme Iceland and, more recently, set up an office in Vilnius (Lithuania) where it plans to hire up to 75 people in the next three years as the company expands into additional European markets.
Jón Thór Gunnarsson, CEO of Arctic Adventures, said, "We at Arctic Adventures are very excited over the purchase of Into the Glacier, which is the largest man-made Ice Cave in the world. The Ice Cave is situated on Langjökull, Iceland´s second largest glacier and is a unique product. The addition of Into the Glacier to our product line shows Arctic Adventures´ commitment to offering high quality products to our customers, and being the only full range activities operator in Iceland."