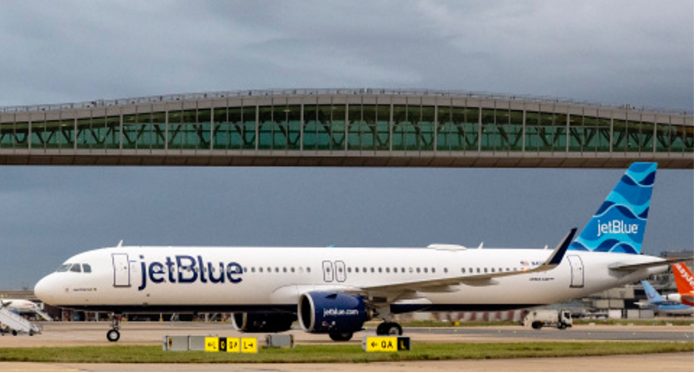 JetBlue entered the transatlantic market market last year, flying to Heathrow and Gatwick
JetBlue confirmed an agreement had been reached on Thursday (28 July), a day after Spirit's shareholders declined to back a proposed merger with Frontier Airlines.
A formal merger agreement between the two US carriers was terminated on Wednesday (27 July) after months of protracted negotiations, which saw a final decision pushed back on four separate occasions before eventually being shelved.
It comes after JetBlue launched a hostile takeover bid earlier this year, upping its offer in June to broadly match that which was already on the table from Frontier.
"We are excited to deliver this compelling combination that turbocharges our strategic growth, enabling JetBlue to bring our unique blend of low fares and exceptional service to more customers, on more routes," said JetBlue chief executive Robin Hayes.
"We look forward to welcoming Spirit's outstanding team members to JetBlue and together creating a customer-centric, fifth-largest carrier in the United States. Spirit and JetBlue will continue to advance our shared goal of disrupting the industry to bring down fares from the big four airlines.
"This combination is an exciting opportunity to diversify and expand our network, add jobs and new possibilities for crew members, and expand our platform for profitable growth."
Spirit president and chief executive Ted Christie said the agreement would create "the most compelling national low-fare challenger to the dominant US carriers" – these are American Airlines, Delta Air Lines, United Airlines and Southwest Airlines.
"Bringing our two airlines together will be a gamechanger," Christie continued. "we are confident JetBlue will deliver opportunities for our guests and team members with JetBlue's unique blend of low fares and award-winning service.
"We especially appreciate the commitment of our Spirit family throughout this process. Today's exciting announcement reflects JetBlue's admiration for Spirit and a shared belief in what the combined airline can bring for our guests."
Spirit chair Mac Gardner praised the company's board for their contribution to a "robust and diligent" merger process. The deal is likely to yet be subject to scrutiny by US competition authorities.