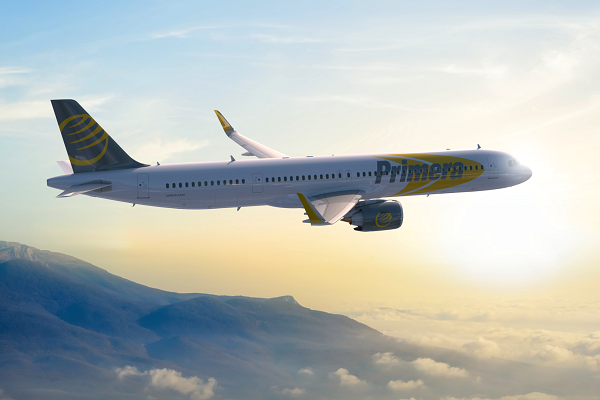 Denmark-based Primera Air ceased flying on Monday, leaving thousands of passengers stranded and with an unknown number of forward bookings.
Four of Primera Air's 15-strong fleet of aircraft were impounded by London Stansted Airport that evening. The carrier entered administration after reportedly selling flights up to 17:00 the same day.
Primera Air, registered in Latvia, had operated for 14 years around Scandinavia to short-haul holiday destinations.
But the airline had expanded rapidly in the past year, adding budget long-haul operations to North America to its European leisure routes.
Primera Air began flying from London Stansted and Birmingham to the US and Canada in April.
It also launched from Paris and was due to launch from Manchester and Madrid, offering one-way flights for €149 to New York, Boston, Washington and Toronto.
The carrier abruptly shut down its operations after failing to secure a short-term loan from its bank.
A statement on the Primera Air website said: "Primera Air will cease all operations on midnight of October 1, 2018 and enter administration.
"The company has been working relentlessly during the last months to secure long-term financing.
"Not being able to reach an agreement with our bank for a bridge financing, we had no other choice than filing for bankruptcy.
"Without additional financing we do not see any possibility to continue our operations."
The statement by the airline's board blamed "unforeseen events" and "severe delays of aircraft deliveries" at the start of 2018 which led to flight cancellations and to €20 million in additional costs for leasing aircraft.
It said: "Weighting the potential losses due to future delivery delays and the added exposure to our partners and lessors, and bearing in mind the difficult environment airlines are facing due to low prices and high fuel costs, we have decided to cease operations now, where it will have a smaller effect on our clients, due to the timing of the year, rather than increasing the exposure.
The carrier was part of the Danish Primera Travel Group, which is privately owned by Icelandic businessman Andri Mar Ingólfsson.
Primera Travel Group is the number-three tour operator in Denmark, where it carries 150,000 holidaymakers a year, and also trades in Sweden, Finland and Norway.
No one from Primera Air was available for comment and the number of passengers affected remained unclear.
However, London Stansted noted the airline was due to operate 16 flights to North America this week from the airport, each with up to 200 seats, as well as five return flights to Malaga.
Primera Travel Group chief executive Peder Hornshoj told Travel Weekly: "We are in the same group, but this is nothing to do with the Primera Travel Group tour operator."
The failure of Primera Air came almost a year after UK carrier Monarch Airlines and Air Berlin ceased flying.
The UK government ordered an independent Airline Insolvency Review following the collapse of Monarch. This is due to make recommendations by the end of the year.