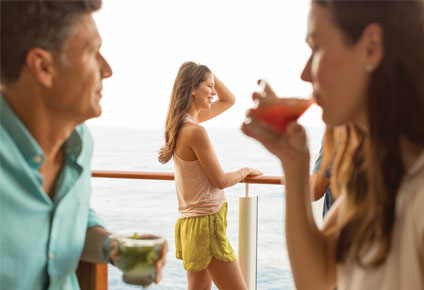 Norwegian Cruise Line is "upping its game" as it unveiled a major change to its pricing policy by making all cruises fully all-inclusive.
Bookings across all 14 of Norwegian's ships are now classified as Premium All Inclusive.
Senior vice president, international for the line Frances Riley said this was the next 'natural step' for Norwegian.
"In recent years we have upped our game with our ships and with our hardware, this is now about innovating the experience for our customers.
The all-inclusive pricing means items that were formerly 'extras' are now included in all cruise prices.
These range from a wide variety of premium alcoholic and non-alcoholic drinks to unlimited juices, water and soft drinks for children, as well as all service charges and gratuities.
Norwegian said the extras in total were worth about £1,200 per stateroom. The policy takes effect from Thursday April 6.
Premium All Inclusive applies to all staterooms, including studio, inside, ocean view, balcony and mini suite accommodation.
Guests staying in the higher-level haven or suite accommodation will additionally benefit from a dining package, 250 minutes of free internet and $100 onboard credit.
The line said it was introducing the change to stay competitive with all-inclusive holidays on land.
Premium All Inclusive has already been rolled out in several European markets including Germany, Switzerland, Austria and France on sailings to all destinations.
The new strategy means the lead-in price for a comparable seven-night sailing in the western Mediterranean rises from £609 to £739. But Norwegian said it worked out cheaper than making a cruise-only booking and purchasing the extras separately.
Nick Wilkinson, senior director and general manager for northern Europe, said: "We are confident that Premium All Inclusive, and the relaxation and peace of mind it offers, has the power to inspire your customers to book with you.
"We will support you with our comprehensive Partners Toolkit.
"Also, our business development team will proactively assist you with maximising the opportunities it offers."