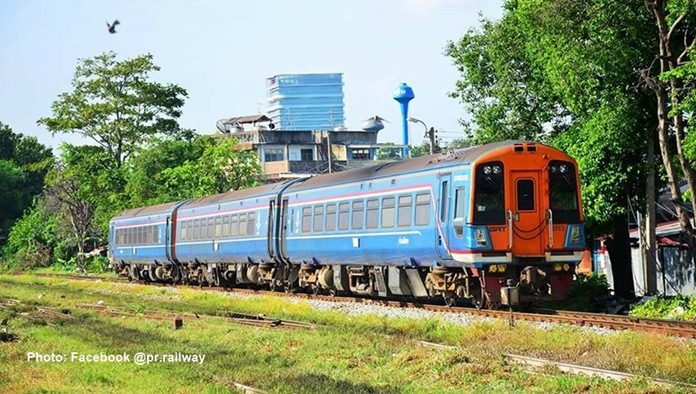 The State Railways of Thailand (SRT) launched the weekend air-conditioned train services from Bangkok to Pattaya and Sattahip in Chonburi, now to promote tourism to tourist destinations in the country's eastern economic corridor (EEC).
The weekend second-class train services will be on a six month trial service until September 30. Only one train will be put in service on the weekend trip.
The SRT said it will use the Sprinter train on the route from Bangkok to Pattaya and Plutaluang railway stations in Chonburi.
The launch of this special Sprinter train 997/998 service mostly is aimed to promote tourism to tourist destinations in the EEC which is now promoted to become a new special economic zone geared toward advanced technology such as aviation and automation, according to the SRT.
These tourist destinations include Si Chang Island, Khao Kheow Open Zoo, Sriracha Tiger Zoo, Japanese Park, Sriracha and Koh Loi.
The No 997 train departs Bangkok railway station at 6.45am and arrives at Pattaya at 9.13am, and Plutaluang at 9.59am.
Along the route from Bangkok, the train will stop at Makkasan, Klongtan, Hua Mark, Lat Krabang, Hua Takhe, Chachoengsao junction, Chonburi, Sriracha, Pattaya, Pattaya Floating Market, Yanasangwararam, Nong Nooch Pattaya Garden, and Plutaluang.
On the return trip to Bangkok, the No 998 train will depart Plutaluang at 3.50pm, and arrive at Bangkok station at 6.55pm.
The train fare will be 170 baht from Bangkok to Plutaluang.
At Pattaya station, there will be pickup truck and Tuk Tuk service from the station to Pattaya Beach and Bali Hai Bay for tourists wanting to take the boat service to Koh Larn, floating market and Nong Nooch garden.
Reservations for seats on the Sprinter train from Bangkok to Plutaluang station can be made 60 days in advance,.