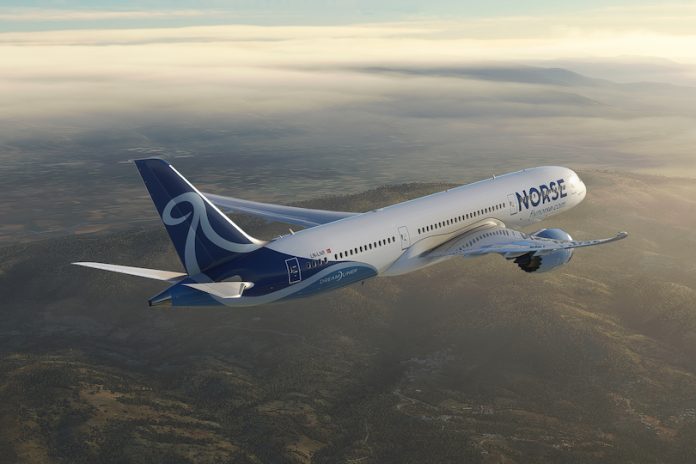 Norse Atlantic Airways has announced that it will be subleasing another of its Boeing 787-8s. The agreement is for a period of 18 months, and will provide the carrier with an injection of cash at a time when it does not plan to fly its entire fleet of aircraft.
The airline that will lease the aircraft is yet to be revealed, but delivery of the Boeing 787 to its temporary new operator is expected to take place before the end of the year. The Norwegian low-cost start-up already has four Boeing 787s on lease to Spanish carrier Air Europa.
Norse Atlantic Airways' CEO, Bjørn Tore Larsen, confirmed the sublease, stating,
"This additional sublease agreement provides a further opportunity to increase total cash profit during the lease period. We intend to operate 10 Boeing 787 Dreamliner aircraft during our summer 2023 season, which will mark a substantial increase compared to our launch phase in 2022."
Photo: Norse Atlantic
Norse Atlantic Airways has so far taken delivery of 13 of its 15 planned Boeing 787 aircraft (two 787-8s and 11 787-9s). However, the airline recently trimmed its schedule, and now intends to operate only 10 Boeing 787 aircraft for the coming winter.
At the time of the route cuts, the airline's CEO said,
"We have taken swift action to adjust our winter schedule and remove excess capacity from our network in light of lower expected demand, high fuel prices and rising global inflation. We are pleased that bookings for our remaining core winter routes remain strong and that ticket sales have been increasing as we expand our distribution network."
The carrier agreed the leases for its aircraft in 2021, when lease prices were at record lows, and so subleasing the spare aircraft to other operators is a logical approach to bringing in some extra cash while the aircraft are not needed.
Norse Atlantic Airways' two Boeing 787-8 each seat a total of 291 passengers in a two-class configuration – 32 in Premium, and 259 in Economy.
Photo: Norse Atlantic
Norse Atlantic Airways UK
Norse Atlantic Airways UK received its Air Operator's Certificate (AOC) from the UK's Civil Aviation Authority (CAA) at the end of last month. Prior to receiving this, the carrier's London Gatwick (LGW) to New York (JFK) route originated in Oslo (OSL). The UK AOC means that it will now be able to operate pint-to-point flights between the UK and the US.
On the London Gatwick to New York route, Norse Atlantic Airways currently faces competition from British Airways and JetBlue, and from next summer, Delta Air Lines too.
Photo: Norse Atlantic
Steady growth
Norse Atlantic Airways' inaugural flight from Oslo to New York took off on June 14th, 2022. Since then, the airline's growth has been steady, and in September, it operated a total of 338 flights. This was a 33% increase on the previous month.
Today Norse Atlantic Airways flies between seven destinations on both sides of the Atlantic. These include Berlin (BER), Fort Lauderdale (FLL), and Orlando (MCO). Further routes are expected to be announced soon, in particular from its London Gatwick base.