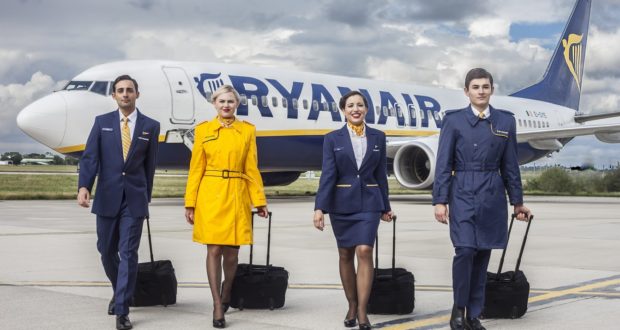 Ryanair's flight schedule for next week as been thrown into disarray with up to 600 flights cancelled ahead of two-days of strikes by cabin crew.
Europe's largest budget carrier warned that 100,000 passengers will be affected on Wednesday and Thursday due to planned walkouts in Belgium, Portugal and Spain.
Up To 50,000 of Ryanair's 430,000 passengers – or 12% of the total – are expected to be disrupted on each of the two days.
The European cabin crew action is separate from industrial action by Irish-based pilots resulting in 24 flights between Ireland and the UK being cancelled tomorrow (Friday).
The airline yesterday contacted affected travellers by email and SMS text advising them seven days in advance that their flights have been cancelled due to a notified strike by some cabin crew in the three countries.
All affected passengers have been offered alternative flights or full refunds. Extra customer service staff have been drafted in to help ahead of the strikes.
"While deeply regretted, these cancellations will affect approximately 12% of Ryanair's customers on Wednesday and Thursday," Ryanair said.
"Any Ryanair customers travelling to/from Belgium, Portugal or Spain next Wednesday or Thursday, who have not received an email or text SMS today, should expect that their flight will operate as scheduled and should check-in to their departure airport as normal.
Ryanair outlined the impact of the cabin crew walkouts. The cancellations will involve:
– Up to 300 of over 2,400 daily flights all over Europe (12%)
– Up to 200 of over 830 daily flights to and from Spain (24%)
– Up to 50 of over 180 daily flights to and from Portugal (27%)
– Up to 50 of over 160 daily flights to and from Belgium (31%)