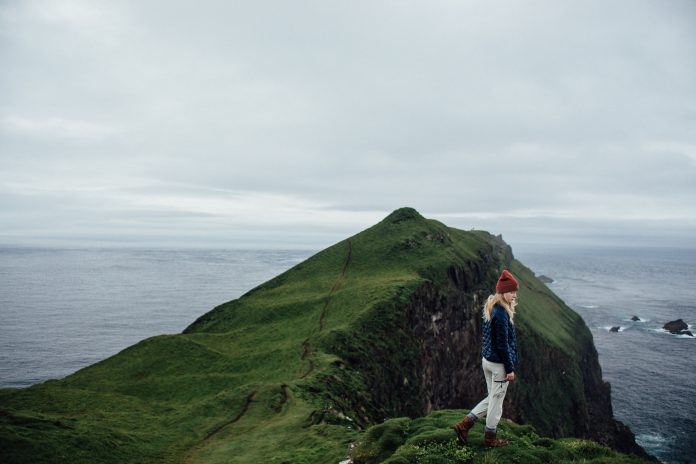 When booking flights for an upcoming trip, it's difficult not to wish you owned your own private jet. Then you could maybe make time to see some of the countries and cities you're flying over en route to your final (and only) destination. Thankfully, there are airline stopover programs available and ready to make your jet-setting dreams a reality. After all, there's nothing better than two passport stamps for the price of one.
How about adding on a free flight to Reykjavik, or a couple days in Helsinki, without any additional airfare costs? Maybe a cosmopolitan retreat in Istanbul is of interest to stave off the jet-lag? (Not to mention the dreaded and unwelcome sensation of returning-to-reality that accompanies the end of a vacation.) Well, thanks to the free stopover programs instituted by Turkish Airlines, Finnair, and Icelandair, all of this is a possibility next time you're officially 'out of office.'
Sound too good to be true? There is, of course, a catch—though, in this instance, it's more of a technicality. Often a particular class of ticket needs to be booked to capitalize on the stopover programs, or the program is only valid when departing and returning from specific airports. Though, as we will see on this list with Air New Zealand, there are multiple ways to make jet-setting work for you.
"A stopover can either be an organized offer by an airline or the manipulation of your airfare to allow a stopover," explains Peter Vlitas, Senior Vice President of Airline Relations at Travel Leaders Group. One thing that's a constant, however, is the urgency of planning in advance: "You to make sure you receive your documents and you're not walking around the airport trying to sort things out."
With that in mind, we've rounded up the best airline stopover programs to add on to your next trip. We've considered the destination, cost, tour itineraries, and ease of booking when evaluating which airlines provide the most value with their stopover packages. From heli-hiking in the Southern Alps to chasing the Northern Lights along the Arctic Coast, here are the best stopover programs for your next vacation.
Turkish Airlines: Stopover in Istanbul
If you aren't in the habit of regularly flying Turkish Airlines, perhaps you need to re-evaluate your travel habits. The Star Alliance member flies to more countries than any other airline (122, to be exact, which accounts for over 62% of the nations in the world, in case you were wondering) and reaches a total of 304 destinations around the globe. So, if you haven't found yourself searching for flights from New York City to Auckland or Kathmandu, maybe you need to broaden your horizons. (Literally).
Luckily for timid would-be adventurers who fear long-haul (read: multi-time zone) flights, the Turkish Airline Stopover in Istanbul program is the perfect way to break up the trip. Though a stay in Istanbul may, in this circumstance, be merely an add-on, the city's vibrant culture and rich heritage may threaten to outshine your primary destination—and create a sudden desire to explore more of what the country has to offer. (May we recommend Bodrum or Cappadocia to balance out your urban excursion with a trip into the country—or, in this case, the seaside or desert?)
Turkish Airlines offers a stopover program (including a hotel, airport transfers, and city tour) in Istanbul for free on almost every ticket class fare, as long as the layover is longer than eight hours. This package is perfect for travelers who like to be a little spontaneous in their journeys—the program is all done upon arrival, and (depending on fare class and final destination), Turkish Airlines can accommodate guests who decide last-minute if they wish to stay on in Istanbul for another day or two.
To note: a Turkish visa is required for most nationalities, and can either be purchased online or (rather quickly) at a counter in the Istanbul Airport. Economy passengers receive a day of free accommodations in a Four Star hotel, while business class travelers have the option of spending two days in a Five Star hotel in Turkey's largest (and most exciting) city. Yet another reason (alongside the spacious seating and Turkish cuisine, of course) to consider flying Business Class.
Another reason is the Turkish Airlines Business Lounge at Istanbul airport, which just opened this past April. The luxury of the newly opened Business class lounge for Turkish airlines in the Istanbul airport more than justifies the increased ticket fare. Though, we argue that fiscal conservatism goes out the proverbial (economy-sized) window when preparing for any flight longer than 10 hours.
The elegant architecture of the Lounge calls to mind the sophistication of the city itself, though the calming environs are nothing like the chaotic atmosphere of the Grand Bazaar. Though its endless diversions (virtual golf, billiards), and the sights and smells of the equally endless arrays of Turkish cuisine (and Turkish coffee) may call to mind the latter. Make sure to drink some of that coffee, however, because—with its sleeping rooms and private showers—the Lounge is so comfortable and relaxing, you may never want to leave. Indeed, Turkish Airlines is so successful at evoking the spirit of Istanbul in the Lounge (and on the plane) that you feel like you're already on vacation while still in transit. And isn't that a rarity today when flying commercial?
Finnair: Stop & Breathe Stopover
For our next stopover program, we're heading up north to the (severely underrated) city of Helsinki. Finnair's Stop & Breathe Stopover program offers travelers flying to Europe or Asia a stopover in the nation's capital for up to five days, at no additional cost. There's even the opportunity to book a same-day departure via Finnair, as well. What can you do in half a day in Helsinki? Quite a lot, actually. Order reindeer tongue (a local specialty) at Kulta Kitchen & Bar, in the cozy Arctic-inspired Lapland Hotels Bulevardi and explore downtown Helsinki. Or why not ease up on the activities and curl up with a book? After all, Finland is famous for its beautiful libraries.
While the National Library of Finland is a venerated institution within the cultural world of the city, the recently-unveiled Oodi Helsinki Central Library, which opened its doors in December of 2018, is similarly marvelous in its architecture and ambiance. Another relaxing activity we highly suggest for the weary travel is to visit one of the city's many public saunas—just because it's open to the public doesn't mean the quality of the experience will suffer. Finland invented the sauna over 2,000 years ago—they've got this ritual down to a (highly therapeutic) science.
Emirates Airlines: Dubai Stopover
From the Nordic capital of Finland to the party capital of the Middle East: Our next option takes travelers from Northern Europe to the Persian Gulf.  Experience the cosmopolitan jewel of the Middle East with a stopover in Dubai with Emirates Airlines. The Emirates stopover program offers a variety of hotel and sightseeing packages for travelers flying to over 150 destinations, each priced according to the caliber of the lodging. And in this ultra-luxurious city, that can certainly vary. Consult a travel advisor to select your preferred dates and finalize your itinerary.
If your stopover occurs on a Friday, we suggest participating in the Palm Sugar Brunch at WET Deck, a weekly pool party held at W Dubai-The Palm on Palm Jumeirah island. When in Dubai, after all. The glitzy venue overlooks the Arabian Sea, and the coastline offers a serene escape for travelers looking to catch a breather from the fast-paced city (and even faster-paced day-parties)—effectively providing the best of both worlds. Plus, for commitment-phobic travelers, the stopover program is refundable up to 72 hours before your arrival. And for those who worry they'll get distracted by the city's many attractions on the way to their final destination, there's 24-hour hotel check-in, as well. So, there are officially no excuses. After all, a trip to the Maldives isn't complete without a shopping spree in this fashion-forward city beforehand. After spending a day or two in Dubai, you will be the definition of arriving in style—wherever that may be.
Swiss International Airlines: Stopover Switzerland
We're headed back to Europe for our next selection, the Stopover Switzerland program offered by Swiss International Airlines (better known as, simply, SWISS). Why not see two beautiful places in Switzerland for the price of one when you book your SWISS Air flights for your next vacation? The packages offer a variety of destinations within Switzerland: From Lucerne to Interlaken, Montreux to Zermatt. Swiss Travel Pass, which allows you free admission throughout the country by train, bus, or boat. Similar to the Emirates Dubai Stopover program, SWISS offers a range of price points based on accommodation selections for each trip. Both airlines are wise to provide this variation in cost, as travel can be expensive in both nations across the globe.
The fiscal indulgence is worth it, however—no one does luxury like the Swiss, and if you're looking to capitalize on the world-class hospitality on display, opt for the Luxury Switzerland itinerary, featuring stays in two Five Star hotels in the city and the countryside: Storchen in Zurich, The Chedi in Andermatt. Zurich is always a reliably delightful destination, as the largest city in Switzerland is teeming with festivals and events all throughout the year, regardless of when you book your flight. Cost-conscious travelers can book the budget-friendly Taste of Zurich package to experience the city without breaking the (Swiss) bank.
Icelandair: Icelandair Stopover
Our next selection provides one of the most enticing stopover programs in existence, , with no additional airfare fees, and activities that take travelers all the way from the Silver Circle to the Arctic Coast—not to mention the Blue Lagoon. We're talking, of course, about Icelandair. What other nation can boast such otherworldly topography? But it's not just the way the country looks when you're on the ground, but also where the country is situated when you're in mid-air, that makes this program so ideal. Conveniently located halfway between the mainland of Europe and the east coast of the United States, transatlantic passengers have the opportunity to take advantage of this mid-way point on their travels with a free stopover in Reykjavik via Icelandair.
Servicing a dozen hubs in North America to precisely twice that number of cities in Europe, there's a wide range of flights that travelers can book to take advantage of these exciting opportunities—the Arctic Adventures alone are worth the price of your airline ticket. Travelers can stay for anywhere from a single day to an entire week—the latter of which is best to take advantage of the multiple Stopover tours and activities originating out of Reykjavik, Iceland's largest city. Not only is Reykjavik the nation's capital (and busiest urban hub), it is also a portal to the wild beauty of Iceland.
Book a Northern Lights Minibus tour to try your luck at witnessing this spectacular Icelandic display in the sky. Avid devotees of the Aurora Borealis should also monitor the flight schedule of the Helka Aurora. This Boeing 757 is illuminated with LED lights that replicate the colors of the Aurora, replicating that magical phenomenon in the Nordic sky. All travelers, regardless, have a higher likelihood of witnessing the Northern Lights the further they venture into the wild (read: away from the city of Reykjavik) at night. And there's no shortage of opportunities for travelers to venture into the Icelandic countryside.
Visitors can opt for the otherworldly relaxation of the Blue Lagoon or the supernatural allure of the Golden Circle—it merely depends on your mood. Twenty minutes from Keflavik Airport, the Blue Lagoon is less than an hour from Reykjavík. Travelers looking to unwind in Iceland's most luxurious resort should stay at The Retreat at Blue Lagoon and decompress on the way home from your trip. Go ahead, indulge in some much-needed self-care. Consider it a vacation from the vacation, if you will. (And you should).
Air New Zealand: Multistop Bookings
For our final selection, we're abandoning the Nordic wilderness for the wilds of New Zealand—all the way up to Franz Josef Glacier, to be specific. One of the steepest glaciers in the Southern Alps, Franz Josef Glacier is located on the less-populated South Island of New Zealand—a part of the country that's well worth a visit. (Particularly considering you've likely flown nearly around the world just to arrive in Auckland International Airport). Located on the more populated North Island, Auckland is New Zealand's largest city and the busiest hub for international travelers. So busy, in fact, that Tourism New Zealand just concluded a campaign that encouraged visitors to explore other domestic destinations by promoting a free stopover in any second domestic location at no extra cost. While this particular giveaway has ended, there are still ways to book stopover visits within the country via Air New Zealand's multi-stop booking tool.
This functionality, while not a traditional stopover package, enables visitors to book 'open jaw' flights—a system that allows you to arrive and depart from different airports, and is very helpful when booking a domestic itinerary throughout the country with international stops. After all, when you're on the other side of the world, you want to explore. We suggest you take advantage of the multi-stop flight options and fly to Queenstown Airport, located in Frankton, Otago, on the South Island. Once you've landed, take a road trip up to Franz Josef Glacier. The stunning peak is less than five hours away from the airport—a length of time that will feel more like five minutes, after the flight you've already endured. Let this majestic mountain range be the first of many natural wonders you discover during your adventures in New Zealand. Travel is more interesting when you stray from the well-trodden path, or—in the case of Air New Zealand—the frequently-booked flight itinerary.