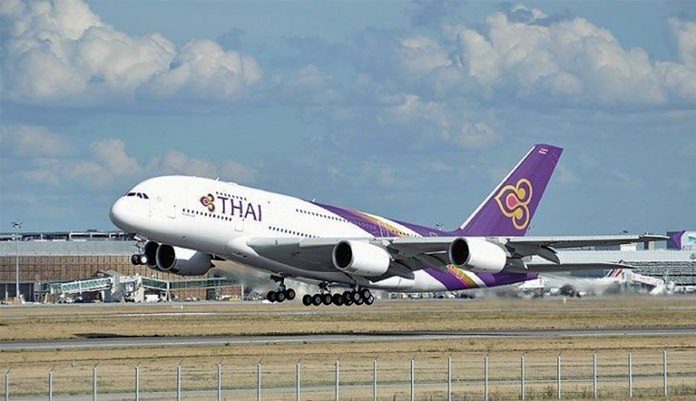 Thai Airways' rescue has finally received the green light from creditors. The Bangkok-based airline is mired in debt that now officially totals US$13.4 billion. With fast mounting losses amid the global travel downturn and no real way of meeting its financial obligations, Thai Airways went into administration in 2020. Now, the airline is trying to navigate its way out.
This week, Thai Airways' Acting CEO, Chansin Treenuchagron, advised Thailand's Stock Exchange that 91.56% of creditors who attended a creditor's meeting on Wednesday morning accepted Thai's proposed business restructuring plan.
That restructuring plan, known in Thailand as a rehabilitation plan, will go before Bangkok's Central Bankruptcy Court on May 28 for consideration.
Getting the creditors onboard is a significant step forward for Thai Airways. The reluctance of many creditors to get behind Thai's proposed rehabilitation plan had stymied progress so far. At the meeting were representations of some 13,000 creditors. The majority of representatives, accounting for the vast bulk of the creditors, supported Thai's latest version of the rehabilitation plan. Key to that part is the ability of Thai Airways to access fresh capital.
Thai Airways losing money for years
While widely regarded as a nice airline to fly on, Thai Airways has been bleeding cash for years. In 2017, the airline lost US$67.2 million. The following year, Thai lost US$369.5 million. In 2019, the airline posted a loss of US$382.2 million. Last year, the losses blew out to US$4.5 billion. The mammoth 2020 loss coincided with the airline grounding almost all flights for an extended period of time.
But as the years of losses attest, the problems at Thai Airways set in long before the travel downturn. Thai has blamed competition from low-cost airlines and Thailand's open skies policy as root causes. Outsiders point to operational inefficiencies, poor management, and an aging and unwieldy fleet as other notable reasons.
In late May 2020, Thai Airways filed for bankruptcy protection in Bangkok's Central Bankruptcy Court. By July 2020, the airline had defaulted on around US$3 billion in debt. The Thai Government sold down its shareholding in an attempt to unshackle the airline and allow it to better navigate the process of restructuring.
For much of 2020, considerable speculation surrounded the possible demise of Thai Airways. But seasoned Thailand watchers considered that unlikely. The Thai Government places enormous importance on the national flag carrier.
Somboon Sangrungjang of Bangkok corporate law firm, Kudun and Partners, told Reuters the rehabilitation plan would allow for an extension on bond payments, interest, and the option for debt-to-equity conversion. The rehabilitation plan also brings back onboard Piyasvasti Amranand as an administrator. Mr Amranand formerly ran Thai Airways and managed to make the airline profitable.
But under Acting CEO Chansin Treenuchagron, the Thai Airways board and senior management have made some progress turning around the airline.
The airline has already axed 8,700 jobs, with plans to cut a further 6,000 – 8,000 jobs over the next 12 months. Thai Airways has also moved to downsize and simplify its fleet. The airline normally operates six A380s. They are among the 49 aircraft Thai has in storage. The A380s symbolize many of the problems at Thai Airways. Some experts believe the six planes were purchased more as status symbols than for their fit into the broader Thai Airways fleet.
While gaining creditor's approval for the rehabilitation plan on Wednesday was progress, like many things at Thai, the plan's implementation is by no means guaranteed.