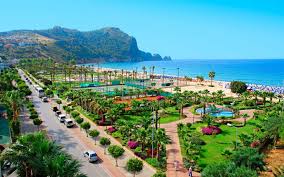 Varna, the main airport serving Bulgaria's Black Sea coast, had a 45% rise in package holiday bookings in March, monthly sales figures from leading holiday reservations provider Traveltainment showed. This followed a 35% rise in February, leaving the airport in 8th place in the ranking of the ten largest destination airports for holidaymakers.
There was also strong growth for Heraklion, the main Crete gateway airport, with a 27% rise after a 56% surge in sales in February. However, bookings for Rhodes weakened by 4% last month after strong growth in February.
Airports in the Canary Islands again generated high double-digit growth in March as consumers continued to switch to Spanish destinations. Bookings to Fuerteventura rose by 20% (after rises of 24% in February and 27% in January) and to Las Palmas by 14% (after +24% in February and +28% in January). Tenerife South had a 6% rise in bookings but Arrecife on Lanzarote dropped by 8%.
Meanwhile, Palma reinforced its dominance as the largest destination airport by far with a 10% increase in bookings, which represented 33% of all bookings for top ten airports last month.
In contrast, demand for Turkey and Egypt continued to fall sharply. Antalya, the major airport serving the Turkish Riviera, suffered a massive 50% fall in bookings last month, following on from heavy falls in recent months, including -42% in February and -40% in January. The average price of Antalya bookings dropped by nearly 16% last month as tour operators tried to stimulate demand with discounts and reductions, according to Traveltainment figures.
Moreover, bookings for Hurghada, the largest holiday airport in Egypt, were down by 31% last month following similarly dramatic falls since last November as demand for Red Sea holidays continues to fall away.