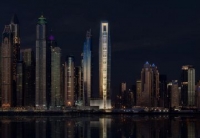 Integrated global property developer The First Group is building a new tower building in Dubai Marina that will house the world's tallest hotel.
The Dubai-headquartered firm, which ranks among the city's fastest-growing developers of upper-midscale hotels, is building the future icon named 'Ciel' with development partner China Railway Construction Corporation (CRCC).
"We are proud to mark this important milestone in the development of Ciel, which is set to become one of Dubai's most iconic buildings and a landmark hotel of global significance," said Rob Burns, CEO of The First Group.
"Ciel is The First Group's 18th project in Dubai and our largest and most complex undertaking to date. This spectacular tower will truly be a jewel in the crown of one of the world's most dynamic cities. Ideally located in Dubai Marina, Ciel guests will enjoy world-class hospitality, F&B and entertainment facilities."
Recognised as the world's second-largest construction and engineering company by revenue, CRCC is the main contractor overseeing the prestigious project, bringing its globally renowned expertise in mega-developments to building what will become the tallest hotel on the planet.
"Having worked with The First Group constructing major hotel projects in Dubai for more than a decade, we are proud to partner with the firm in the development of Ciel, the world's tallest hotel," commented Gao Jinping, General Manager of China Railway 18th Bureau Group. "I am confident our partnership will continue to go from strength to strength in the years ahead."
Designed by award-winning architectural firm NORR, the 365-meter tall skyscraper will house 1,042 guestrooms including 150 suites, premium guest amenities and facilities, such as the Ciel Observatory & Lounge on the 81st floor and a signature rooftop Sky Terrace featuring a stunning infinity pool, bar and observation deck affording sweeping panoramic views of Dubai's world-famous skyline, the Palm Jumeirah and Arabian Gulf. The hotel is planned to open in 2023.
Abstractly sculpted in metal and glass, the building's gently curving exterior represents an inspired response to high-rise living.
In a city known for its architectural feats, Ciel will be a unique addition to the Dubai skyline – a triumph for design that elegantly combines scientific analysis, sculptural form and landscaped terraces.
"Ciel will set a new benchmark for innovative design in super-tall buildings, not just in Dubai, but globally," commented Yahya Jan, President & Design Director for NORR. "This landmark project will become an exciting addition to the famous Dubai Marina skyline."
Standout design features include a 300-metre tall atrium with vertically stacked landscaped and naturally ventilated terraces spanning the building's 82 floors, which will provide occupants with shared communal and interactive space.
Ciel's interior design is inspired by the concept of Wabi-Sabi, a Japanese tradition with a key focus on understated elegance and rustic, warm aesthetics.
A signature specialty restaurant befitting Ciel's luxury status will spearhead the hotel's F&B options, which will also include an all-day dining venue, Sunset Lounge (75th floor) and Horizon Bar (77th floor).
A luxury spa and health club will be located on the building's