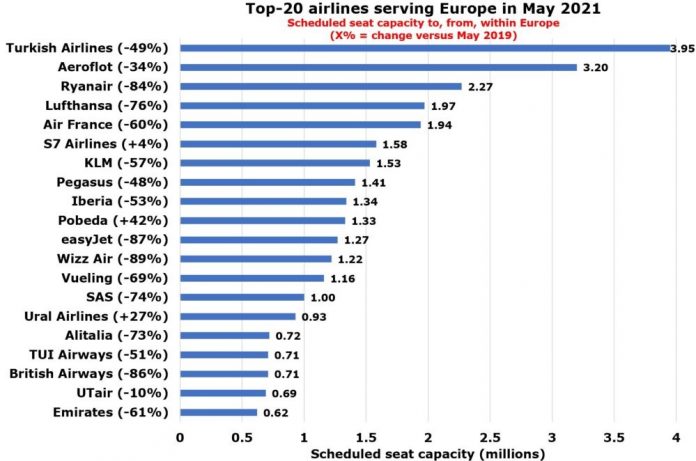 Turkish Airlines is the largest carrier to, from, and within Europe in May 2021, based on analyzing the latest scheduled passenger capacity data provided by airlines to OAG. Six airlines have fallen out of the top-20, while low-cost carriers are down significantly and British Airways has fallen to 17th. While temporary, this provides an interesting snapshot of the present situation.
Turkish Airlines, which serves more countries around the world than any other airline, is down by 49% over May 2019, but it has risen from fourth to first place. It is fighting for pole position with Aeroflot, which is down by 'just' 34%.
Pobeda, which has grown strongly in the past two years, is Aeroflot's lower-cost subsidiary. If the pair were combined, Aeroflot Group would be strongly in the lead, which provides a timely reminder to always think about what is included and why.
Top-20 airlines
Ryanair was number-one in May 2019, with over 14 million scheduled capacity that month. Now it is down by 84%, or 11.79 million, with the carrier falling to third.
 Ryanair is far the worst affected of the top-20 airlines serving Europe, with only Wizz Air (down by 9.55 million) and easyJet (down by 8.57 million) coming close. While the pan-Europe operations of these three have been vital to their growth and success, it is for now dragging them down. And the UK's current 'green list' of countries will only their recovery very marginally.
easyJet was second in May 2019, but it has fallen to 11th. It is one of four carriers to have fallen out of the prestigious 'Europe's 10 largest' category, along with British Airways, SAS, and Vueling.
New entrants in the top-20
S7 Airlines, Pobeda, Ural Airlines, TUI Airways, UTair, and Emirates have all joined the top-20 group of airlines to, from, and within Europe. This further shows how Russia has become increasingly dominant, with S7 – now the sixth-largest ahead of KLM – up from 24th.
Emirates is now the biggest airline based outside of Europe to be in the table. While its European capacity is down by six in ten seats, it is in 20th place, a jump of three places. It has 30 routes between Europe and Dubai this month. Simple Flying examined Emirates' dominance this year