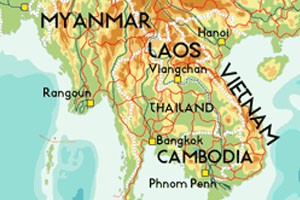 Myanmar, Thailand, Cambodia, Vietnam and Laos have teamed up to jointly market themselves as Five Countries, One Destination, the vice president of Myanmar has announced.
Nyan Tun launched the campaign in Nay Pyi Taw, at the third Cambodia, Laos, Myanmar and Vietnam (CLMV) Tourism Ministerial Meeting and the second Ayeyarwaddy-Chao Phraya-Mekong Economic Strategy (ACMECS) Tourism Ministerial .
The Five Countries, One Destination travel program, to be implemented by 2016, will bring tourists to Bagan (Myanmar), Chiang Mai (Thailand), Luang Prabang (Laos), Siem Reap (Cambodia) and Hue (Vietnam).
"Cambodia, Laos, Myanmar, Thailand and Vietnam will market the region as a single destination by providing easy access for visas and improving transportation networks," said Nyan Tun.
This includes promotion of cross-border travel and organisation of joint tourism marketing and promotional activities. Promotion of green and responsible tourism will also be a focus.
TTG Asia