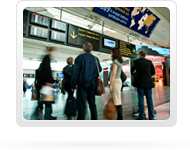 Turkey will maintain subsidies for flights to tourist destinations next year while flight capacity from Germany could be restored to 2015 levels ready for a recovery in demand.
The Turkish government has decided to extend the current subsidies beyond December into 2017, tourism minister Nabi Avci told a conference of the Turkish hotel association Aktob near Antalya. The subsidies will be kept at $6,000 per flight but broadened to cover more destination airports and more source markets. Avci also told hoteliers that financial support for their sector will be maintained but did not provide any details.
The minister's aviation subsidy pledge came after TUI CEO Fritz Joussen appealed in a speech at the conference for the subsidies to be maintained in order to provide international tourism companies with long-term planning security. The head of Europe's largest tourism group was optimistic that summer 2017 will be better for Turkey than this summer despite a weak start to early bookings. But he admitted that the number of Turkey customers for TUI's European tour operators had halved to one million this year.
Among other German speakers at the Aktob conference, DRV president Norbert Fiebig said that Turkey bookings dropped by about 40% on the German market this year. "This year we are seeing that customers are making their choice of a holiday destination not only based on the security situation but also on their personal view of democracy and free speech," he told the largely Turkish audience.
Meanwhile, German tour operators look set to restore flight capacity to Turkey next summer to the levels of summer 2015. After a reduction of about 20% this summer in response to the slump in bookings from early 2016 onwards, observers estimate that capacity will rise again by about the same amount for summer 2017.
"The tourism industry wants to grow again in Turkey. At present, there are 20% more flights available than for this past summer," Rolf-Dieter Maltzahn, head of DER Touristik's package holidays division, told fvw. This means there will be no flight capacity shortage if demand picks up again.
According to Öger Tours, there will be up to 559 weekly flights to Antalya from 22 German airports next summer along with 104 weekly flights to Izmir, 18 to Dalaman and 11 to Bodrum. Altan Tarakci, product manager for Turkey, said the Thomas Cook subsidiary has increased capacity for the Aegean region after a 20% increase there this year. TUI and FTI have also increased flight capacity for the region.