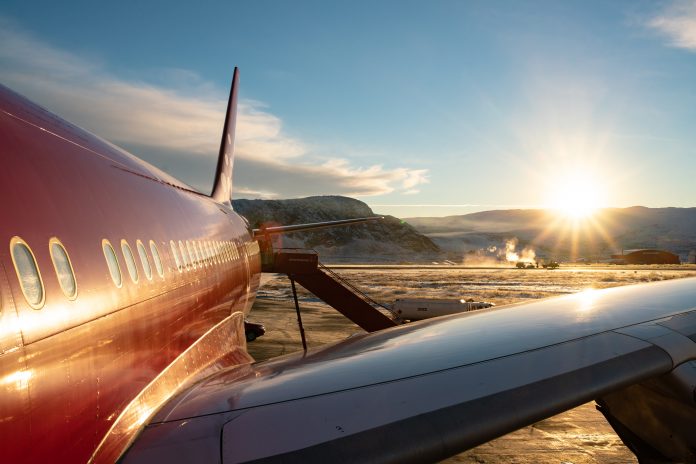 Air Greenland is increasing focus on what is most important: our customers. The airline has just launched Club Timmisa –customer club, which among other things provides access to a new travel app, an opportunity to win a travel gift voucher and a series of other benefits for the customers.
Maliina Abelsen, Commercial Director :"We have a new, stronger customer services department and a customer services manager in place seven days a week to answer enquiries. This year, we will continue the series of customer events along the coast
We are also pleased to announce that for the first time ever, Air Greenland has made an historic sponsor agreement with the National Theatre, which will ensure even more fine cultural experiences for the entire country. "
"Timmisa means: "Let us fl y" and that is exactly what we want to do with you. Whether you are travelling outbound, inbound or domestic, membership means your journey will be simpler and easier. "
" We want to improve our dialogue and interaction with customers as much as possible. We are generally pleased with our satisfi ed customers, but we hope Club Timmisa will increase customer satisfaction and the pleasure of flying with us even more, says Commercial Director Maliina Abelsen about the customer club.
Your new travel partner Members receive good off ers and concrete advantages. The app provides a fast overview and relevant information about the journeys. The members will have access to Air Greenland's best off ers before anyone else, as well as opportunities to win travel gift vouchers and much more.
" The members can check-in, see fl ight times, book a new fl ight and stay informed about the most recent membership benefi ts, says Helle Pedersen, Customer Services Manager at Air Greenland. Win a travel gift voucher As a member, you automatically take part every three months in Air Greenland's big draw for a DKK 3,000 travel gift voucher. Who knows? It could suddenly be you, who gets a chance to visit the family an extra time, or to see new sides of our beautiful country. Get exclusive member off ers You can even save money. Club Timmisa´s members are ensured the absolute best off ers on fl ights – before anyone else. – At Air Greenland, we often have especially good off ers and if you are a member of Club Timmisa, we make sure you are among the fi rst to fi nd out about good off ers and new services.
" Previously, these offers were sent out with our newsletter. With Club Timmisa, you get all the benefi ts from the newsletter and much more," continues Sales and Marketing Manager, Katja Vahl." It's so easy You join Club Timissa by downloading our app at the App Store or from Google Play. You can also fi nd the club on our website www. airgreenland.gl, or by contacting Air Greenland's customer services. "
Photo: Air Greenland Lars