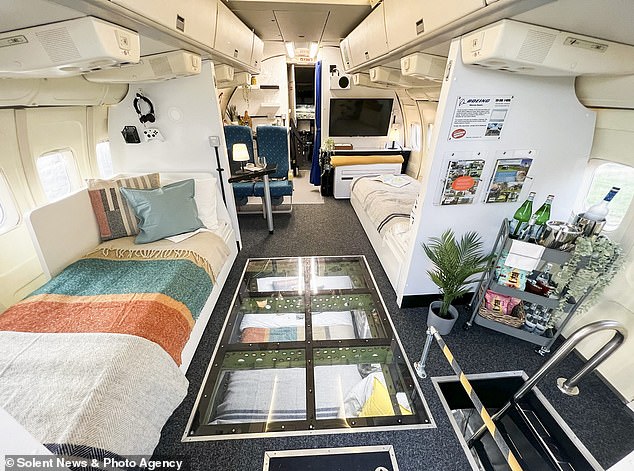 Aviation fans can have the holiday of their dreams after an inventor painstakingly converted a 'retro' Boeing jet into a stunning Airbnb.
The plane features original seating, overhead lockers and even a flight simulator in the cockpit.
The front half of the 737 airliner sleeps four and boasts a double bed in the cargo hold and a hot tub in an old jet engine cowling.
Guests even have the chance to use the original onboard toilet.
Entrepreneur and university lecturer Steven Northam, 39, bought the 1960s Boeing 737-200 on eBay for £5,000 and converted it into a two-storey holiday home which you enter using airport boarding stairs.
Man converts a Boeing 737 airplane into the ultimate Airbnb
Steven Northam, 39, bought a plane online for £5,000 and converted it into a guest house
The plane cost him £15,000 to renovate over three months and he has named it the 'Marwell High Club' after the nearby Marwell Zoo.
Mr Northam bought the 29ft-long, five-tonne front section from Chichester College, West Sussex, where aircrew had trained using the simulator.
He spent £3,000 transporting the 14 window-craft 50 miles using a haulage firm and a crane to a patch of land near his home near Winchester, Hampshire on the same road as Marwell Zoo.
He then worked 'fairly solidly' from 7.30am to 4pm on his project from July to September 2022 to make it a cosy place to stay.
The married father-of-two is applying to Winchester City Council to rent the plane out as an Airbnb.
It has two single beds on the top floor and a double bedroom in the baggage hold, with a glass window to let light in from above.
Mr Northam, a senior lecturer in business management at Winchester University, found old passenger tickets – from Monastir, Tunisia to Lyon, France – tucked between the seats which revealed the Boeing belonged to the airline Tunisair – the national airline of Tunisia.
He believes it is around 54 years old and was one of the first of its kind to be built.
He said: 'It's a very old school plane. It's one of the very early ones – it's retro.'
Both the plane's passenger deck and the cargo hold have been converted to make room for guests
The airliner's cockpit has had an entire flight simulator built in to entertaining the guests
A double bed has also been built into the cargo hold with a window above to let light in
Mr Northam said 'I'm not a plane fanatic', adding that the plane conversion was 'just a fun project'
Plane seats have been fitted to create living space in the fuselage, and free Wifi is available for guests
The initial Boeing 737 made its first flight in April 1967 and evolved through the years, with variants seating 85 to 215 passengers.
Mr Northam, who is also a business owner, admitted he knows 'absolutely nothing' about aeroplanes, but found the craft while scrolling through eBay and thought it was an 'interesting' opportunity for another venture.
He has kept much of the original plane, using the passenger seats and signage inside while installing WiFi, heating, a shower and an 'entertainment hub'.
Mr Northam said: 'It was sat at Chichester College for ages, and they hadn't used it in a while. It just popped up on eBay – I have no idea what happened to the rest of the plane.
'It seemed pretty cheap to me – it was a bargain for the scrap value alone.
'I got a special haulage firm to move it here with a massive crane – it must have been quite a sight on the motorway. I had a fear of it getting here and just rolling over.
'There are a few aeroplane-Airbnbs like this dotted around the world, but only a handful.
'It's definitely not something you see every day.
'It's a fun place to hang out in. Fun is the driver behind it all.
'I'm not a plane fanatic – all I know is that they fly. It's just a fun project.'
He added: 'It's my most ridiculous purchase to date. I've got an armoured truck to convert into a caravan next.
It cost Mr Northam around £15,000 to convert the plane into accommodation over three months
Mr Northam, a business owner and senior lecturer in business management at Winchester University, sitting in the cockpit of his plane
The Boeing 737 was carried 50 miles to its current site by a haulage firm using a huge crane
The plane's new passengers will still be able to enjoy the original plane toilet onboard
Mr Northam bought the remains of the plane on Ebay and spent months renovating it himself
'I have this quirky desire to buy weird stuff.
'I have some aircraft-related films in the plane and cheesy aeroplane-themed cushions on the beds – all the stuff you'd expect.'
The Airbnb has sleeping space for four people and a small kitchenette as well as the shower and toilet.
The flight simulator in the cockpit has a 49in curved 4K screen installed for guests to enjoy.
Mr Northam, a self-described 'big kid', also went the extra mile to install two 42′ HD TVs and two Xbox Series S.
There is parking space for two cars, a gas BBQ and an outdoor seating area – including the hot tub and another jet engine cowling which can be used as a seat.
Mr Northam is no stranger to innovative projects – he installed a microchip into his own hand in 2017 to act as a key to his car, home, office and now the Boeing too.
Mr Northam and his primary school teacher wife Rebecca, 36, have two daughters – Poppy, 6 and Lottie, 4.
He said: 'I tell them this isn't normal.
'I have been contacted by people who are obsessed with this stuff, asking to come and see it. Parents of kids who love stuff like planes and trains ask me about it too.
'Inside, it's a little like a caravan – it was quite large when it was empty with all the seats taken out.
'I get a buzz from seeing projects before and seeing them after – it's satisfying.'
Due to the unusual shape, Mr Northam struggled to get furniture to fit.
He said: 'The biggest challenge I had with it was that it's quite an unusual shape so it was hard to find stuff that would fit in here properly.
'I had to cut a lot of the wooden pieces to fit it.
'The shape of the fuselage is not quite circular, so that was a bit difficult to work with.'