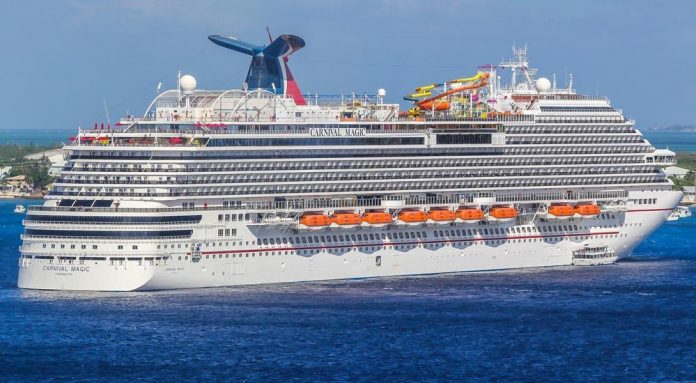 Carnival Cruise Line's next Excel-class ship, the 6,500-guest Carnival Jubilee, will feature two new immersive ocean-themed zones.
The Currents zone on Decks 6 and 7 will plunge guests into a space that appears to be below the ocean's surface. The zone will use show lighting and sound design to transform the space into an underwater hub, aided by six large LED faux windows displaying fish swimming alongside the ship. A wave-shaped LED ceiling will also show scenes and change from day to evening hues.
The Currents zone will also include a bar, dining venues and live music, including:
• Dr. Inks, Ph.D is a bar wrapped with octopus arms and inspired by the intelligent sea creature philosophizing about life over a drink, according to Carnival. The menu will include her musings and the bar will serve ocean-themed drinks such as color-changing cocktails, layered shots and drinks with boba pearls and others playing with the ideas of sea foam.
• The Golden Mermaid lounge will serve cocktails inspired by gemstones and metals, with some beverages including edible glitter or presented in glassware decorated with garnishes for an elevated experience. The bar has a stage for musical performances.
• Emeril's Bistro 717 will serve seafood and feature an expanded raw bar. Breakfast will include items like shrimp and grits, and later meals will include creole boiled shrimp, fresh oysters, stone crab and lobster as well as Emeril's signature jambalaya.
The Shores zone on Deck 8 is inspired by how people use the seaside, including piers, boardwalks and beaches. The zone includes a three-deck-high fish school art in its staircase.
The Shores will include a Ferris wheel-inspired ceiling feature, casual seating areas and fare including pizza, sandwiches and hot dogs. The zone includes Rudi's Seagrill and Cucina del Capitano with indoor and alfresco seating.
The ship will offer other new zones, including The Gateway designed as a throwback to grand terminals.
The Carnival Jubilee will sail year-round from Galveston, Texas, beginning on Dec. 23. The ship will offer weeklong Western Caribbean cruises and will be one of three ships sailing year-round from that port until the Carnival Miracle begins homeporting there in October 2024.