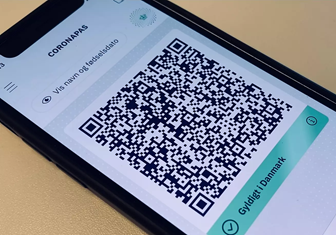 The digital Corona passport will contain information about vaccination status, test results and previous infection in one overall solution. The passport can be used in connection with travel, restaurant visits and cultural events, and much more.
Denmark and large parts of the world are in the process of a controlled and gradual reopening. In order to simplify the process of documenting a negative Corona test, vaccination or previous infection, the government has entered an ambitious collaboration with Danish Industry, Danish Business and the cultural life in general. In a short time, they have developed a new, smart, and secure digital Corona passport, which can now be downloaded as an app for your smartphone.
In the app, it will be possible for the user to switch between two settings – for use in Denmark and abroad. This way only the necessary information is displayed. The app can therefore be used to document a valid Corona passport in Denmark, and from July 1st also for when traveling in the EU.
At the same time, it is quick to check if a passport is valid. You just show the app's green screen or have a QR code scanned. If you are in a restaurant or on your way to a museum, it will thus be much less cumbersome for the staff to check the Corona passport. Because the app is valid as official documentation, you also do not have to show ID as part of the control.
Finance Minister Nicolai Wammen says:
The Corona Passport symbolizes how far we have come in Denmark. The reopening of Danish society is progressing steadily and in a controlled manner, and infection rates remain under control. The new Corona passport is easier to use, and citizens can safely display it without giving private information to others. The passport will also live up to the common European regulations, so that in step with the gradual reopening of the EU countries, we will be able to travel more and more places with the new Corona passport. In this way, the app can be used as a valid corona passport in Denmark – and from July 1st also for traveling in the EU.
The Danish Health and Medicines Authority and the Danish Digitization Agency have developed the app in an innovative collaboration with the business and cultural life, which has stepped in and contributed to the corona passport being used quickly.