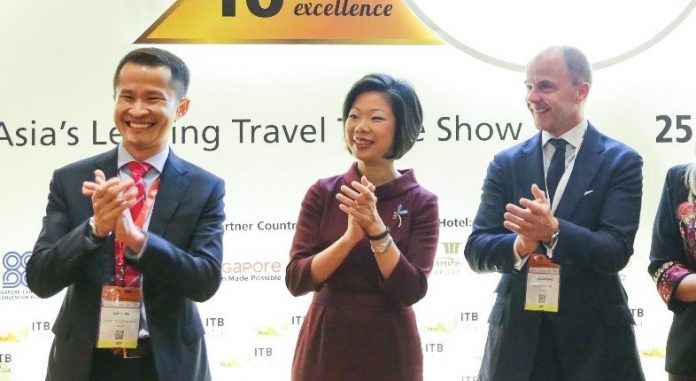 Global leaders from Facebook, Microsoft, Trip.com to provide insights on the major trends driving change and transformation within the travel industry
Keynote panel session on the future of travel distribution with insights from leading OTA's and intermediaries on how they are innovating to stay ahead
Dedicated session on winning over today's Chinese travellers and connecting with Chinese millennials
 ITB Asia, 'Asia's Leading Travel Trade Show', has announced this year's impressive line-up of keynote speakers. Under the overarching conference theme of "Travel Reimagined", key industry leaders will be providing insights on the major trends provoking disruption across the travel industry and how they are innovating in order to stay ahead. Hosted at the Sands Expo and Convention Centre in Marina Bay Sands, the conference will take place from 17 – 19 October 2018, "Executive director of ITB AsiaKatrina Leung says.
The opening keynote session on 17 October will be led by global leaders from Facebook, Microsoft and Trip.com, focusing on today's complex travel industry issues including the major technological changes driving disruption in the travel sector, such as the rise in global smartphone ownership, how organisations are evolving their business models to remain competitive and their vision for the future of the travel industry.
The keynote addresses will be delivered by Nikhilesh Ponde, Global Head of Travel Strategy from Facebook, Shane O'Flaherty, Global Director of Travel and Transportation from Microsoft and Xing Xiong, CEO from Trip.com, one of the world's leading online travel agencies.
Shane O'Flaherty will elaborate on travel disruption and how this will change the way we travel and do business. He will also share his thoughts on how to create a seamless customer journey and empower employees for greater efficiency and creativity. Shane commented that "Shifting traveller profiles and expectations for more connected experiences is raising the bar throughout the travel journey. Advances in technology are opening up tremendous opportunity to drive revenue, lower operating cost and create new business models in ways we only talked about in the past. The future is already here."
Day two's keynote on 18 October will be a new intermediaries panel session with a focus on the future of travel distribution. OTAs, metasearch engines and new intermediaries are disrupting distribution, with a 360-degree view of customers in a way that other travel industry players cannot — at least today. With deep customer data and analytics, they are targeting the management of customer relationships, working as facilitators of mobility.
The second keynote panel session will be led by industry players including Amy Wei, Vice President, APAC from KAYAK, Andrew Hughes, Regional Director of Sourcing from Hotelbeds, Filip Filipov, Vice President of Product from Skyscanner and Charlie Osmond, Founder & Chief Tease from Triptease, who will share their insights on how they plan to succeed as the industry continues to move forward.
The keynote panel session on 19 October, day three, will focus on 'winning over today's Chinese travellers', looking at China's outbound travellers, one of the country's largest