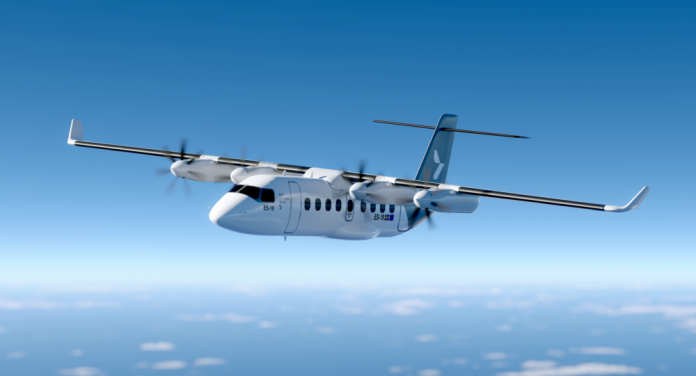 Finnair is looking to electric to deliver its sustainability goals in the future. Today, the airline signed a letter of interest for up to 20 electric regional planes from developers Heart Aerospace. The plane, the ES-19, will carry 19 passengers to a range of 250 miles and is being designed to be capable of landing on runways as short as 2,500 feet.
Finnair is interested in up to 20 of the model.
Finnair has announced that it has signed a letter of interest for an electric aircraft under development. The ES-19, in development with Heart Aerospace, is a 19 seater regional aircraft that is 100% powered by electricity.
The airline's interest is for up to 20 of the planes, which it says would be used on Finnair's shorter routes. Finnair's Vice President of Sustainability, Anne Larilahti, affirmed Finnair's confidence in electric aviation, saying,
"Finnair believes electric aviation will be one of the tools for the future of flying. It will help to promote responsible and sustainable aviation, especially on short routes, in an era where climate change will increasingly dominate the agenda.   
"We want to be actively involved in developing and implementing new technologies which enable carbon-neutral flying. 
"Solving the climate challenge of flying is essential so that the social and economic benefits of aviation can continue. Many of the measures require collaboration across industries in tandem with partners playing a key role in our ongoing sustainability work."
Today's letter of interest builds on Finnair's involvement in the Nordic Electric Aviation Initiative (NEA), a consortium it has been part of since 2019. NEA also has participation from other key airlines and aerospace companies in the Nordic region, including Air Greenland, Avinor, Braathens Regional Airlines, El-fly AS, Finnair, Heart Aerospace, Iceland Air, NISA (Nordic Innovation Sustainable Aviation), RISE, SAS and Swedavia.
The letter of interest has been signed in relation to Heart Aerospace's ES-19 aircraft. The ES-19 is the first aircraft from the Swedish manufacturer and is a fully electric model. It will have a range of 400 KM (around 250 miles) and will seat 19 passengers. It operates on four electric motors and has a T-shaped tail, giving it the appearance of a somewhat shrunken Dash 7.
It has been specifically designed for the challenges of the regional Nordic market, with the ability to operate from runways as short as 750 meters (2,500 feet). It will cruise at 180 knots with a top speed of 215 knots. It's a similar mission profile to that of the Widerøe electric commuter plane. Photo: Heart Aerospace