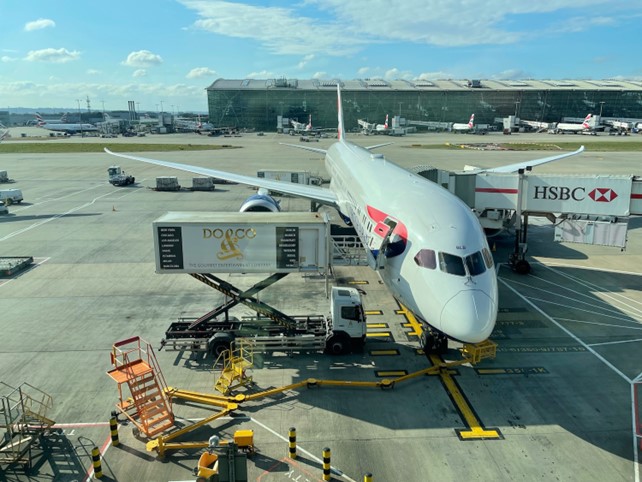 Rather than fly nonstop from London to Los Angeles, we  flew via Chicago in order to try out the Boeing 787-10 on British Airways in Club Suites business class. While BA's meal service is below average, the seat is superb and it was an extremely pleasant flight overall.
British Airways 787-10 Club World Suites – First Impressions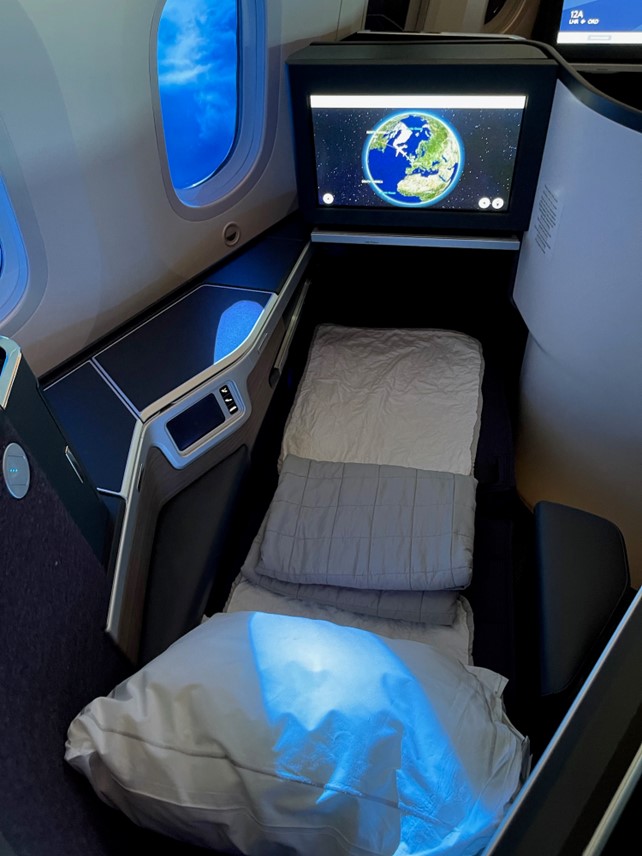 The business class cabin is large on the 787-10, with two large cabins comprising 48 seats. This is a very attractive cabin with closed-door suites and a dark color scheme with a white patterned bulkhead featuring a blue-lit British Airways logo in the middle. Very beautiful.
Even better, the seat is just comfortable: the cushion is plush, the pillow is huge, and the comforter is soft and cozy. There was also plenty of room for my feet (I chose seat 13A). I must admit, I spent almost the entire flight sleeping.
The door wouldn't stay shut…a common problem I run into when flying in business class with closed-door suites.
I generally enjoy British Airways catering (Do & Co out of London) and this flight was no exception. On the menu was a British slow roasted short rib with Yorkshire pudding, roasted potatoes, peas, carrots, and horseradish.
It was really a satisfying dish, but the presentation left so much to be desired. The starter, main course, cheese, and dessert were all hastily assembled on one tray and plopped down before me.
The advantage was that within 45 minutes after takeoff, I was done eating, which allowed plenty of time to sleep. But the presentation really pathetic.
British Airways has indicated this presentation style will continue through the summer due to staffing shortages (I suppose it does take more staff to properly plate meals, but even a few seconds more effort would have made this tray look much more presentable).
The pre-arrival meal was so decadent…but so unhealthy! A "homemade" Hertfordshire saddleback pork sausage roll with fennel and onion seeds. Very delicious (I wasn't even hungry but could not resist). Do try the grilled vegetable panini if you are looking for the (much) lighter choice.