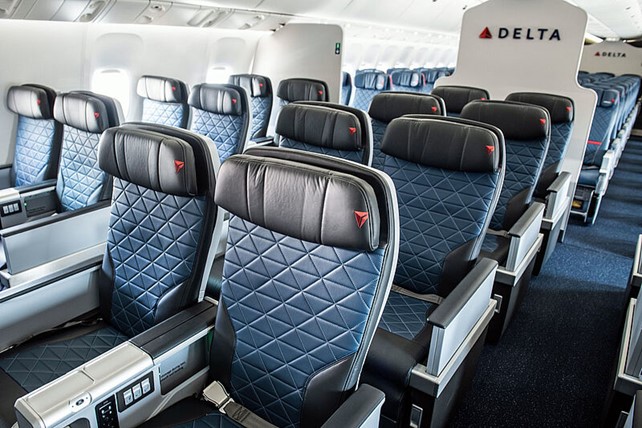 The US carrier Delta Air Lines plans to offer four cabin classes on all flights from / to Europe from next summer. A new addition is the Premium Economy "Delta Premium Select", which has been available in other regions since 2017.
According to its own information, the airline has been in the process of equipping all long-haul aircraft of the Airbus A330 and Boeing 767-300 models with the Premium Economy since this year. Among other things, it offers a wider seat with a lower lying position and an entertainment system with larger screens. So far, Delta Premium Select has mainly been used on long-haul routes across the Pacific.
With the fleet renewal, every flight from Europe will offer a uniform on-board product with a choice of four cabins until next summer, as Delta has announced. These are the products "Delta One" or "Delta One Suites", "Delta Premium Select", "Delta Comfort +" and "Main Cabin". In addition, both types of aircraft will receive upgrades such as modernized toilets and new LED cabin lighting.
With a view to the US boom after the opening of the border, the US airline wants to offer 90 percent more European capacities in the upcoming summer flight schedule than in the summer of 2021. A total of up to 73 daily flights from 25 European cities to ten US destinations are planned.