British Airways has been slammed for a new boarding policy which will see passengers with the cheapest tickets forced to board last.
The airline claimed the new policy, which is being introduced from next month, will speed up the boarding process.
However, passengers have claimed on social media that is 'brown-nosing' its wealthiest customers and 'humiliating' those who have paid the least for their tickets.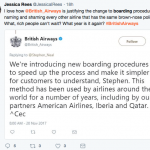 Under the new policy, BA passengers will be issued with boarding cards numbered from five to one, based on the fare they paid and their frequent flyer status. First class passengers and Gold members of the BA Exectuive Club will be in group one, Silver members will be in four, group three will consist of Bronze members, group four economy passengers and group five will be passengers who have bought BA's cheapest hand-luggage only fares.
Group one passengers will board first and group five will be held back until everyone else is seated, however disabled passengers and anyone travelling with young children will still be invited to board first.
A BA spokesperson said it was trying to 'improve the customer journey by creating a number of groups to speed up the process'.
"This method has been used by airlines around the world for a number of years, including by our partners American Airlines, Iberia and Qatar," they added.
Some on social media welcomed the move, saying it was only right that BA rewarded its most loyal, highest spending passsengers. Others said they were happy to board last, proud even to prove that they had bagged a bargain, but many said the policy was unfair and that the airline should board by row, not by ticket price.
One Twitter user accused BA of 'snobbery' and humiliating less well-off passengers, another said the airline was 'punishing' passengers for paying less.