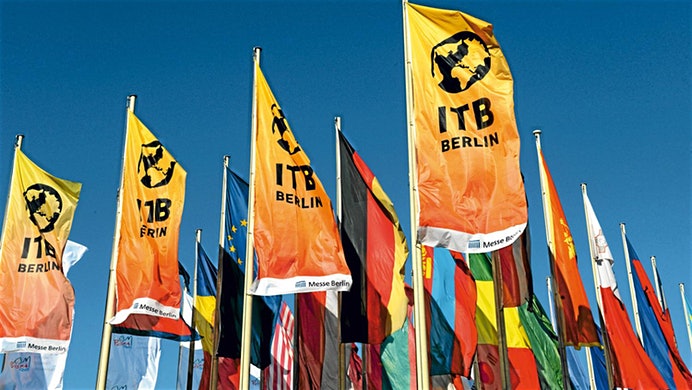 The world's largest travel fair is growing upwards this year with taller stands, welcoming back former exhibitors, and highlighting trends such as luxury and medical tourism.
With some 10,000 exhibitors from more than 180 countries, ITB Berlin is as good as sold out once again. But Messe Berlin is finding new ways for the show, running from March 7 -11, 2018, to keep growing. Instead of learning a new layout like last year, visitors will have to look upwards as well as to all sides.
"Thankfully we are nearly fully booked out," said ITB Berlin chief David Ruetz. Exhibitors with much larger stands include Abu Dhabi, Vietnam, Brazil, Greece, Ukraine and Tajikistan. Other exhibitors are growing in other ways. "There is strong demand for two-storey stands," explained Ruetz. Exhibitors with taller stands this year include the UK, Italy, Portugal, Poland, the Czech Republic, Peru, Myanmar, Singapore and Taiwan.
Two major destinations will be celebrating strong comebacks in demand. Turkey will be the largest single exhibitor at ITB this year while Egypt has also expanded its stand. "The mood has changed. Both destinations are slowly but surely regaining popularity," Ruetz commented. The three Baltic States will also be celebrating but for a very different reason. Estonia, Latvia and Lithuania first gained independence exactly 100 years ago.
Arrivals and departures
Various countries will be back in Berlin after a gap of several years: Belize, Ecuador, Guyana, French Guyana, the Turks and Caicos Islands and Zambia. Prominent returnees among the suppliers are Travelport and Carlson Rezidor. However, Saudi Arabia, a first-time exhibitor last year, is staying away this year along with South Sudan and some smaller exhibitors.
The biggest loss, though, is Emirates Airlines which has decided not to have a stand this year as part of its cost saving programme. Its sizeable space will be taken by the emirates of Dubai and Ras Al Khaimah. "We very much regret the decision of Emirates and would be delighted if the airline changes its mind next year," commented Ruetz.
Luxury and medical tourism as trends
ITB Berlin will again focus on a wide range of tourism themes and trends in the halls, at the ITB Convention and at other events. Medical Tourism, for example, will have its own section for the first time. The fast-growing Luxury Travel segment will be in focus in Hall 9 and at an evening event.
There are numerous new exhibitors in the Travel Technology, including Chinese online giant Ctrip and Japanese market leader JTB. Messe Berlin "can hardly cope with the interest at present, especially due to the strong demand from China", Ruetz said.