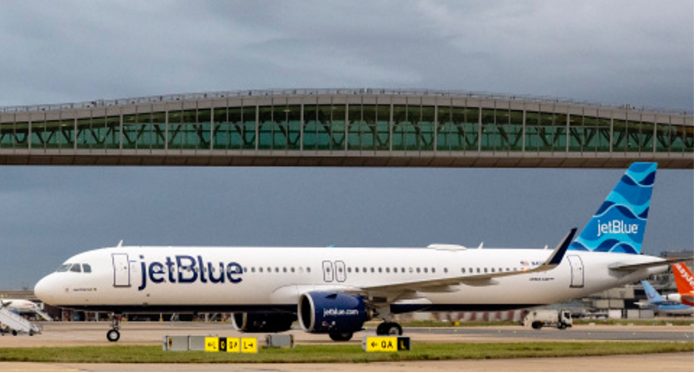 JetBlue has released a letter and video message to Spirit Team Members who are following the upcoming shareholder vote and JetBlue's proxy campaign. The message was released to ensure that Spirit Team Members are aware of JetBlue's commitment to them should a combination with Spirit move forward:
"Hello Spirit Team Members,
It's been a very busy few months in the airline industry, especially for both of our companies. We know this process may be unsettling, and we thought you might like to hear from us directly. We do not want all the conversation about a "hostile" takeover to discourage you about your potential future with JetBlue should we reach an agreement with Spirit.
More than anything, we want you to know that we are genuinely excited about the opportunity to combine with Spirit. We have so much respect for Spirit Team Members and believe we can bring together the best of both airlines to create a new national low-fare carrier to go up against the Big Four – just as JetBlue has been doing for 22 years.
JetBlue has an incredibly strong culture and set of values, and we know you do too. If we have the opportunity to move forward as one company, we plan to offer you the benefits of working for JetBlue:
>We offer higher pay and better benefits than either Spirit or Frontier.
A combined JetBlue and Spirit will grow and add more well-paying jobs across our network.
While we are New York's Hometown Airline®, we have deep roots in Central and South Florida and intend to further grow our existing campuses in Orlando and Fort Lauderdale.

As we said before, we will match retention incentives for all those who have been promised them. We believe it is critical that great talent stays through the transition and pursues long-term careers with JetBlue.

We are proud to have never furloughed any Crewmembers or sent a WARN Act notice in our 22-year history, and we continue to stand behind our no furlough commitment.

With our growing network, Crewmember travel benefits can take you from Canada to Peru, and across the pond to London – with more European destinations on the way – all while enjoying our award-winning JetBlue Experience, including our premium experience, Mint.

Speaking of flying, we are modernizing our fleet to all-Airbus, with incredible new interiors and an order book of A321neos, LRs, XLRs, and A220 aircraft.
Both JetBlue and Spirit have strong commitments to their people, their communities, and to diversity, equity and inclusion.
At JetBlue, we invest in our people with innovative career development opportunities like our JetBlue Scholars college degree program and career pathway programs developing frontline Crewmembers for support center roles. Our JetBlue Gateways pilot and maintenance technician training programs offer new opportunities for both existing Crewmembers and their families.

Our Community Connection program gives Crewmembers a chance to earn tickets for a non-profit of their choice by volunteering hours to a local charity, and our Foundation is championing diversity in STEM education and creating career pathways for the next generation in aviation. And, like Spirit, volunteering in our communities and giving back is critical to our culture.

We are an industry leader in sustainability and are committed to reaching net zero carbon emissions by 2040, well ahead of the industry.
For all the good things we want you to know about JetBlue, it's no secret that we are still emerging from the pandemic, and this is a tough business even in the best of times. While every company hits bumps in the road from time to time and faces difficult situations where reasonable people disagree, at JetBlue, we always work very hard to do the right thing by our Crewmembers and Customers in those moments, keeping our mission to "Inspire Humanity"® in mind. We have many challenges that together we can address more effectively.
We can't predict how all of this will play out, but we can say one thing for certain: we will warmly welcome Spirit's 10,000-plus Team Members into JetBlue if given the opportunity. We have a chance to build with you the fifth-largest airline that Customers deserve. An airline that offers both low fares and award-winning service. An airline that truly challenges the Big Four with a product and price they can't ignore. An airline that Customers love. An airline that all of us can feel proud to say we work for every day.
Together, we can prove the skeptics wrong – just like our founders did 22 years ago when they bucked conventional wisdom and changed the industry by launching in the competitive New York market a small, low-fare airline with seatback TVs and friendly Crewmembers called JetBlue." – Robin Hayes, Chief Executive Officer, JetBlue.