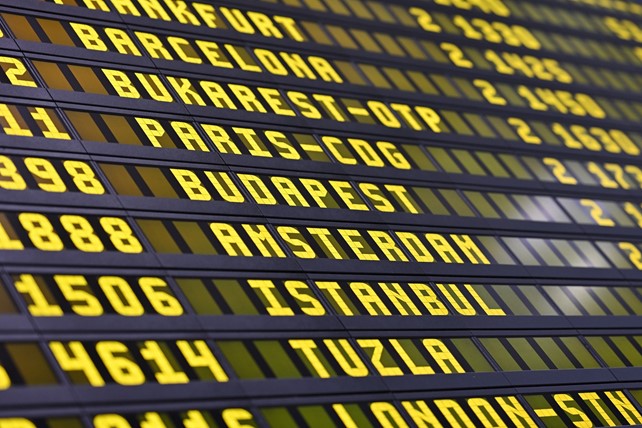 ORLANDO — The travel industry will get "aggressive" to end pre-departure testing, U.S. Travel Association CEO Roger Dow told the media at this year's IPW conference here.
Furthermore, he said, the White House's Coronavirus Task Force agreed that the logic for the testing is "not there."
Dow said U.S. Travel executives had gone to the White House last week to meet with the Task Force and that its members said that "the science and data does not support the testing requirement."

"[The message] has now been delivered to the White House, and we will continue to pressure," Dow said. "Frankly, in the travel business, we're really nice ladies and gentlemen. But on this, we're turning up the heat. We will be more aggressive because it is causing so many people not to have jobs, so many to not come to America, and there's no logic here. So you'll see us get more aggressive. We've been nice, but now it's time to get this thing turned."
Dow had started the press conference by saying he wished he was here to make "another announcement," referring to the testing requirement. He added that U.S. Travel data indicates that removal of the testing requirement would add 5.4 million visitors in 2022 and $9 billion in spending.
Citing the strength of the domestic leisure market in the U.S., which he said has rebounded "phenomenally," surging past 2019 levels, the "holes" in the travel recovery that need to be addressed include international travel, which fell by 80% during the pandemic.
Other factors hindering inbound travel
Inbound travelers are not only deterred by the testing requirement, Dow said, but by other issues including historically slow visa processing times that he called "totally unacceptable."
The average visa wait times in some countries have risen to 268 days (Israel), 538 days (Mexico) and 693 days (Colombia).
"Travel is like water," Dow said. "It will seek the easiest way. If we make it difficult for people, they will find another way. We are really missing out on rebuilding the U.S. economy."
Dow also noted that other countries with stringent travel restrictions are changing the makeup of the U.S. inbound source market. Three of the top 10 markets in 2019, Japan, China and South Korea, are no longer on the list, and have been replaced by Colombia, Spain and Italy.
"Asia had tremendous numbers traveling, and we've got to get them back," Dow said. 

Dow was far from the only member of the travel industry bemoaning the testing requirement's dampening effect on the lucrative international traveler.
"The international numbers are still not where we want them to be because we have this egregious testing requirement," said Visit Florida CEO Dana Young. "The Biden administration has to lift this ridiculous testing requirement now if he does not want to further hurt inbound travel."
Elliott Ferguson, CEO of Destination DC, said that the city was focused on getting back its international travelers and said that by addressing both visa processing times and getting testing requirement repealed, "We're optimistic that we'll see that rebound even faster.
"We recognize that the international travel is about 7% of all visitation, but 27% of spend," he said.
Dow was also asked by a U.K. reporter whether U.S. Travel was advocating for gun control, given the recent spate of mass shootings in the U.S.
"It's one of the most difficult problems we have …. 80% of Americans are saying 'do something,'" Dow said, adding that both gun control and mental health needed to be addressed. "It's a serious problem, and if we don't' do something about it, it's going to hurt. We're saying do something and do something real."