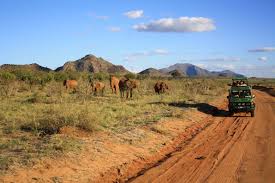 When officially opening the 4.8 billion Kenya shillings English Point Marina in Mombasa, Kenya's President Uhuru Kenyatta announced major reversals on a range of measures taken over the past years, which had made the destination uncompetitive and which had ever since been in the cross hairs of the country's tourism sector.
Among the decisions taken was the lifting of visa fees for children and adolescents coming to Kenya for a holiday, up to the age of 16 years, effective February 1, 2016, for an indefinite period of time. This will make family holidays at the coast cheaper and combined with the recently-announced charter incentives overall, will reduce the cost of vacations to Kenya. The incentive package for charter operations, worth US$30 per seat, was extended to June 30, 2018, an additional year beyond the initial time frame of next year.
Another major bone of contention, value-added tax (VAT) on park and conservancy entry fees, was finally also addressed when the President directed that the value-added tax of 16 percent be removed immediately and entrance fees for national parks be capped at US$60 a day, down from the present US$90 a day.
For long-suffering local commuters, but equally benefitting the tourism industry at the South Coast, the President also announced the acquisition of a further 2 ferries to ease operational bottle necks in traffic between Mombasa island and the Likoni side of the channel.
Additional major infrastructure projects at the coast were also receiving added government support, such as the expansion of Malindi airport and the construction of various highway links to reduce the perennial traffic problems into and out of Mombasa at all exit points.
"The President obviously listens to Balala a lot more because the man brought Kenya out of the post 2007/8 tourism downturn and because he comes from the coast and knows what it takes. Today was a great day for tourism in Kenya and when our people head to the upcoming trade shows in Europe there will be a new confidence that recovery has truly began," wrote a Mombasa-based regular commentator when sharing impressions from the grand opening of the new resort and marina complex.