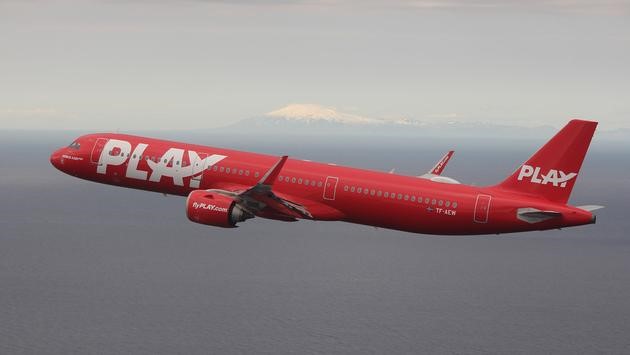 PLAY, new low-cost airline to Europe. (photo courtesy of PLAY)
PLAY Airlines, a low-budget carrier operating flights between the United States and Iceland, was set to announce the addition of a third U.S. airport this morning, Tuesday, February 1.
According to a release from the airline, PLAY will fly a trans-Atlantic flight from Stewart International Airport in the Town of New Windsor to Reykjavík, Iceland. From there, passengers can connect to 22 European destinations – Alicante, Spain; Amsterdam; Barcelona; Berlin; Bologna; Brussels; Copenhagen; Dublin; Gothenburg, Sweden; Gran Canaria, Spain; Lisbon; London; Madrid; Malaga, Spain; Mallorca, Spain; Paris; Prague; Salzburg, Austria; Stavanger, Norway; Stuttgart; Tenerife, Spain; and Trondheim, Norway.
Stewart International, a converted military base that just completed a $30 million addition of an international terminal, is about 70 miles north of New York City in Orange County.
The airport, with close proximity to NYC suburbs in northern New Jersey, eastern Connecticut and the New York counties of Rockland, Westchester and Putnam, is run by the Port Authority of New York and New Jersey. The PA had always hoped Stewart would turn into the New York area's fourth major airport, but it has yet to materialize.
Stewart once had domestic flights from American, Delta and JetBlue, as well as trans-Atlantic flights on Norwegian Air. But all left the airport after cutting routes during the pandemic or, in the case of Norwegian Air, shutting down operations.
But that might change. Down to just one carrier at one point, PLAY would be the fourth airline at Stewart and second international carrier. In mid-January, Norse Airlines received tentative approval from the Department of Transportation to begin service between Stewart and Oslo, Norway, though there is no definitive start date.
Last October, Frontier Airlines began thrice-weekly service from Stewart to Miami, Orlando and Tampa. Allegiant Air is also operating out of Stewart with seasonal service to Daytona Beach, Orlando, Myrtle Beach, Savannah, Tampa, St. Pete/Clearwater and Punta Gorda/Fort Myers.
PLAY – which is scheduled to start service out of Boston Logan International Airport and Baltimore/Washington International later this spring – will start its service out of Stewart on June 9.
To celebrate its service from New York, PLAY is offering a special introductory rate until February 7 of $109 on U.S. departing flights.