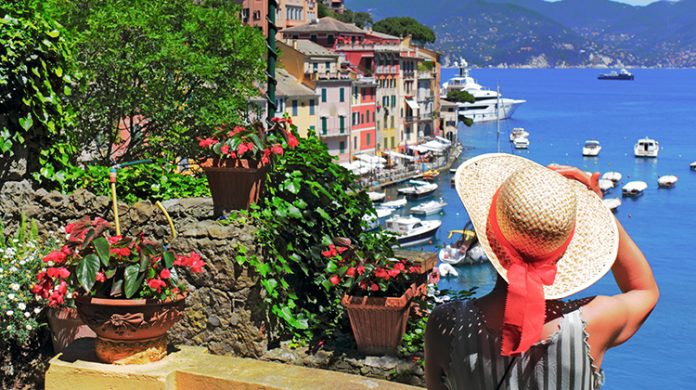 Set against the cinematic backdrop of the Italian Riviera, Splendido Mare, a Belmond Hotel, re-open signaling the beginning of a new era in Portofino and its legendary allure. The 14-room charming guest house has undergone a complete renovation; every detail of the interior design and the guest experience has been carefully crafted to tell the story of the nautical heritage of the harbour town, the surrounding natural beauty of the Ligurian Coast and the timeless glamour of La Dolce Vita.
The teams have been working tirelessly to create a new standard in Italian relaxed sophistication –the true Belmond magic begins. You can look ahead to the return of La Dolce Vita by the sea with friends and family enjoying days out on the water, slow afternoons on the beach and joyful evenings on the terrace at the new restaurant.
SAILING THE GENTLE SEA
Departing from the harbour, guests can set sail aboard a traditional Ligurian fishing boat, Gozzo, for a slow and gentle cruise along the beautiful coastline to San Fruttuoso Bay choosing to stop for a swim to the submerged statue of Christ the Abyss, or a dive into the crystal-clear waters of Punta Chiappa. A picnic lunch can be prepared by the hotel's restaurant, DaV Mare or guests can opt to stop for fresh seafood caught by local fishermen.
IN THE FOOTSTEPS OF ROMANCE
Treks take the route along the footpath, named after a fabled Italian romance, the 'Path of the Kiss' where two young lovers who were separated by their families took their last embrace. The exhilarating 12km stretch from San Rocco, passing through Camogli and onto San Fruttuoso features steep paths and sharp drops with unbelievable views. Half day excursions to Monte di Portofino are also available and can be accompanied by a botanist guide to reveal the benefits of the mountain herbs for health and beauty.
A NEW LOOK FOR A NEW ERA
Splendido Mare re-opens following a complete renovation, throughout the hotel, guests will find detailed references to nautical heritage blended with the glamour of the 1950s and mid-century modern references. All 14 rooms and suites are individually characteristic with colours inspired by the traditional Ligurian buildings and luxurious layers and materials. The new restaurant, DaV Mare, in partnership with Da Vittorio Group, brings a new level of gastronomic excellence to the Ligurian Coast and is set to become the beating heart of the Piazzetta.