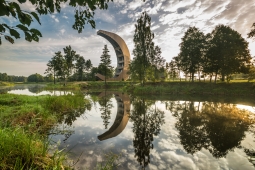 This year marks the centenary of what Lithuanians call its "Restored Independence" — that is, 100 years since the signing of the Act of Independence in Vilnius on Feb. 16, 1918. The history behind this is complicated, since the country was annexed and occupied in subsequent decades by Nazi Germany and the Soviet Union, and it wasn't until 1990 that the country signed a new act to re-establish itself as a sovereign nation.
All that said, the 1918 date is hugely important in the eyes of Lithuanians, and there are celebratory events going on all year in Vilnius and beyond that visitors are welcome to participate in.
Summer festivities kick off in July at the Traditional Song and Dance Festival in Vilnius, a Unesco World Cultural Heritage event that is expected to attract some 20,000 performers. The festival will feature folk dances, traditional songs and performers in ethnic costumes.
Vilnius, Lithuania's capital, has been making waves recently for its mix of trendy and historical attractions.
The city's troubled Jewish history is memorialized in walking tours, a Flame of Hope sculpture and the Museum of Occupations and Freedom Fights, which pays tribute to the victims of genocide and of the KGB during Vilnius' various occupations.
Architecture buffs will find everything from baroque to classical styles in the Unesco-protected Old Town, which, in turn, poses a stark contrast to the hipster bars, brew pubs and street art that enliven the scene.
Meanwhile, in Kaunas, Lithuania's second-largest city, visitors can take in a panoramic view from the 180-foot tower at the Cathedral of Sts. Peter and Paul of Kaunas, which is open to visitors.
The city itself, located just over an hour from Vilnius by car, is known for its dramatic graffiti and art deco architecture, so much so that Kaunaus is a designated Unesco Design City in the Creative Cities Network and is poised to become a European Capital of Culture 2022.
In Klaipeda on the Baltic Sea, events are going on all year, but the largest is the Sea Festival at the end of July. The annual event, also known as Summer Christmas, features music, dance, food and theatrical performances, all with a nautical theme.
The city, the third-largest in Lithuania, is a vibrant seaport that becomes transformed during the festival with colored lights, dancing fountains and tall ships.
Visitors to Klaipeda can also take in the newly revamped Sea Museum, with its collection of marine artifacts and a giant aquarium with penguins and an underwater tunnel you can walk through.
For a complete contrast from Klaipeda, Lithuania's Curonian Spit is a peninsula so dry in parts that it's known as the Baltic Sahara. Notable for its dramatic sand dunes, the Spit was named a Unesco World Heritage Site in 2000 and often serves as a location for TV and film shoots.
Not all of the Spit peninsula is dry, however.  The stretch along the Baltic is dotted with tiny fishing villages, connected by a bike path, as well as the Hall of Witches wooden sculpture garden in Juodkrante and a cormorant colony, one of the largest in Europe, nearby.
If cuisine is a travel inspiration, the White Guide offers information on where to find farmers' markets and purveyors of local cheese, beer and handcrafted bread as well as highly rated restaurants.