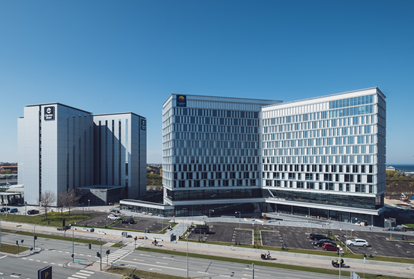 The cord has been cut for the 66,000 m2 new Comfort hotel and conference center, which is located right next to the sister hotel Clarion at Copenhagen Airport.
In addition to 605 hotel rooms, Comfort Hotel Copenhagen Airport also offers five meeting rooms and Northern Europe's largest conference hall located adjacent to an airport. But it is also possible to enjoy the view from the hotel's sky bar on the 10th floor with a beautiful view of both the airport and the Sound and the capital's skyline.
"With the new hotel and conference center, Denmark and Copenhagen Airport will be even more attractive as a destination – not least for the meeting and conference industry, which as aviation must now be restarted after the global pandemic," says Peter Krogsgaard, commercial director of Copenhagen Airport.
FACTS ABOUT COMFORT HOTEL COPENHAGEN AIRPORT
Brand new hotel with 605 hotel rooms including two suites, handicap accessible rooms and 15 XXL rooms with space for eight people in each
Sky bar on the 10th floor
24-hour gym
Crew lounge for flight crew
Four minutes walk from the airport and 13 minutes to Kongens Nytorv by metro
500 m2 of solar cells on the roof, which contribute sustainable energy to the hotel
Largest conference center in direct connection with an airport in Northern Europe of a total of 3,900 m2 including a hall of 2,500 m2 with room for 2,150 guests, 25 cars or five Cessna aircraft