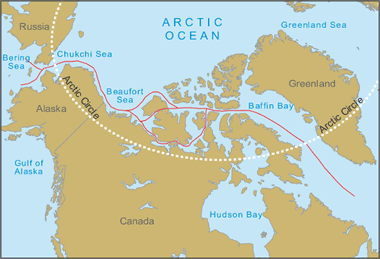 Regent Seven Seas Cruises has canceled a Northwest Passage cruise scheduled to depart Alaska next summer.
Based on this year's weather pattern, Northwest Passage navigational experts said too much sea ice was likely on the route during July.
The cruise was scheduled to depart July 19, 2017, from Seward, Alaska, and terminate in Montreal, with calls in Alaska, Canada and Greenland.
Regent spokesman Jason Lasecki said that the July departure date became problematic when the climate variance this summer caused large Arctic ice packs to flow south in July, producing transit delays. Postponing the cruise until August, as experts recommended, would have had a cascading effect on subsequent itineraries, Regent said.
Instead, the Seven Seas Navigator will do three cruises, from Vancouver to San Francisco, San Francisco to Miami and then Miami to Montreal.
Guests booked on the Northwest Passage voyage will get a refund and a $1,000 credit that may apply to any other 2016 or 2017 Regent cruises. Travel partners who had guests booked on the trip will get $250 per booking.