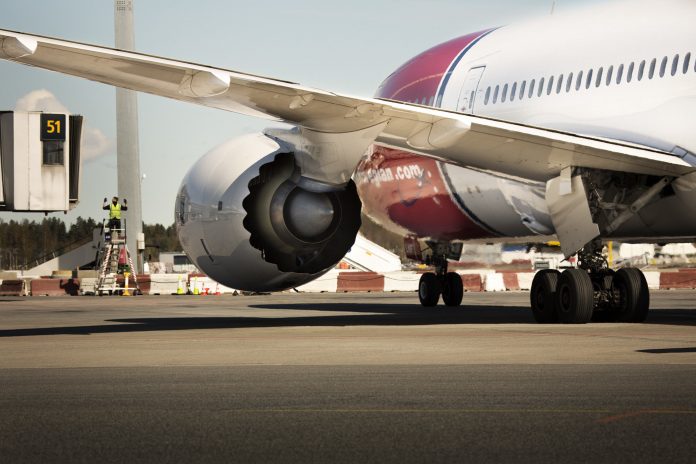 Norwegian Air is entering into a joint venture with a subsidiary of the China Construction Bank Corp. to finance, own and lease aircraft that Norwegian has on order.
Initially, the joint venture will comprise 27 Airbus A320Neos that will be delivered between 2020 and 2023.
China Construction Bank Corp,, the world's second-largest bank by asset value, will own 70% of the venture, with Norwegian owning the other 30%. The partnership will reduce Norwegian's committed capital expenditures by approximately $1.5 billion, the carrier said.
"The joint venture is one of many important initiatives that need to be realized to deliver on our strategy of moving from growth to profitability," acting Norwegian CEO Geir Karlsen said.
On Thursday, Norwegian offered good news on the financial front. The carrier reported a net third-quarter profit of $181.6 million, up 28% year over year. The gains, which came during the typically strong summer quarter for airline, moved Norwegian into the black for the calendar year. Final 2019 results will hinge on the traditionally more difficult fourth quarter.
___
Norwegian Air will launch thrice-weekly summer service between Austin and Paris on May 6.
Paris will be Norwegian's second destination from Austin, joining the summer service it began to London in March 2018. Norwegian also serves Paris from seven other U.S. gateways.
"Austin is a great example of our seasonal focus, serving increased demand during the popular summer months," said Matthew Wood, Norwegian's senior vice president commercial.
Norwegian is emphasizing seasonal flying as part of its #Focus 2019 initiative, which aims to bring profitability to the cash-strapped airline while slowing growth. The carrier launched the initiative after suffering a $170.3 million loss in 2018. Struggles at the airline led to the resignation this past summer of its CEO and founder Bjorn Kjos.