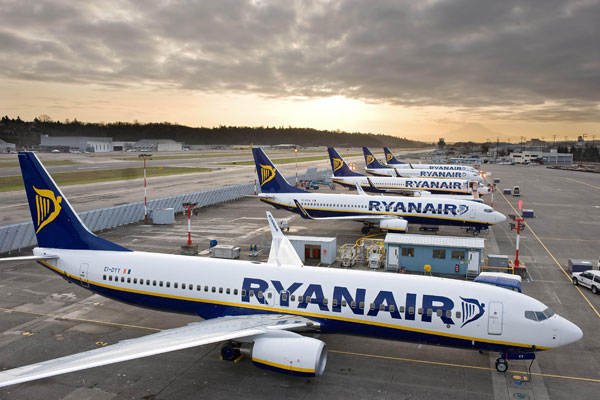 The forced diversion of a Ryanair plane by Belarus has sparked outrage around the world.
A flight from Athens to Lithuania was forced to land in Minsk, the capital of Belarus, when Belarusian authorities scrambled a fighter jet to divert it, claiming a potential security threat onboard, said reports.
The plane was carrying Belarusian journalist and activist Roman Protasevich, who was arrested after it landed in Minsk on Sunday (May 23).
The flight was within the European Union and the EU Commission will discuss on Monday (May 24) what action it will take.
Ursula von der Leyen, president of the EU Commission, tweeted: "The outrageous and illegal behaviour of the regime in Belarus will have consequences.
"Those responsible for the #Ryanair hijacking must be sanctioned.
"Journalist Roman Protasevich must be released immediately."
The UK foreign secretary Dominic Raab said: "The UK condemns yesterday's actions by the Belarusian authorities, who arrested journalist Roman Protasevich on the basis of a ruse, having forced his flight to land in Minsk. [Belarus president] Mr Lukashenko must be held to account for his outlandish actions.
"The UK calls for the immediate release of Mr Protasevich and other political prisoners held in Belarus. The UK is working with our allies on a coordinated response, including further sanctions. The UK also calls for the ICAO Council to meet urgently to consider the regime's flouting of the international rules safeguarding civil aviation."
The BBC reported that state media in Belarus said president Alexander Lukashenko had personally given the order for the move.
The plane landed in Vilnius more than six hours after its scheduled arrival.
The BBC also said the president of Lithuania, Gitanas Nauseda, urged the EU to impose fresh economic sanctions on Belarus at Monday's meeting of union leaders.
"Dozens of Belarusian officials, including president Lukashenko, are already under EU sanctions including travel bans and assets freezes, imposed in response to the repression on opponents," said the BBC.
It reported that US secretary of state Antony Blinken condemned the "shocking act".