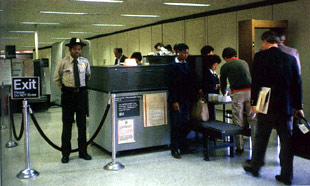 Comment by Elizabeth Lang
With the World Travel Market (WTM) coming to an end only 10 days ago, there was strange feeling about whether or not all the predicted growth rates will come true. There were many summits with many great expectations.
And yet, this WTM was different. The record-high temperatures on November 1 brought dense fog the following days, causing severe flight disruptions and closed airports, with many participants not arriving on time.
Thousands were caught in travel chaos at peak hours with the disruption of the Dockland Light Railway (DLR) on the second and third day of WTM as DLR staff went on strike. The DLR usually carries up to 300,000 people a day. The majority of event participants got jammed onto tube trains and the rest got stuck in traffic jams.
London City Airport – just a stone's throw away from ExCel – was shut down until the late morning due to heavy fog on opening day of WTM. Heavy fog continued, and on the third consecutive day, caused airport disruptions and flight cancellations all over the UK.
A great solution to avoid the traffic jams was offered by Emirates airline in the form of a free ride on the Emirates cable car from Greenwich North (Jubilee line) direct to WTM.
Attending WTM for many years, it has never occurred to me to take the cable car to reach ExCel, and it proved to be a delightful experience. The walk along the river to the WTM venue was a nice discovery of an entirely new area with lots of nice restaurants and bars, which usually remained undiscovered when going on packed DLR trains. So this was the nice side of the DLR strike.
Industry optimism at World Travel Market London 2015 was high.
Global Travel Report claimed, "The trend is to be where it's at." (Better not…)
Ülane Viluments, Founder & Community Manager of JUST LIKE LOCAL said: "Young and hip travelers are now checking out what are the best areas for foodies and where creative people hang out." That said and only ten days after WTM ended, sadly the world has changed.
France "is at war" after Friday's attacks on Paris, President Francois Hollande has told a rare joint sitting of both houses of parliament.
The BBC is reporting that shares in Europe's travel and tourism companies suffered heavy falls on Monday as investors worried about the impact of the Paris attacks.
Airlines were among the big fallers, with Air France down 5% and British Airways owner, IAG, down 3.4%. French hotel group Accor fell more than 6%.
Europe's main stock markets recovered early falls. The FTSE 100 was up, while Paris and Frankfurt were down 0.1%. Accor shares went down 4.7%
This followed falls on Asian markets, hit by news that Japan was in recession.
Many analysts had forecast that travel and leisure shares would be the big losers on Monday, as markets got their first chance to react to Friday's attacks, reported the BBC.
The reality has hit the tourism industry. Security dominates the new agenda.
Moreover it needs the merry old travel agencies again (long time said to be dying out), but now appreciated more than ever. Who else will deliver updated advice and take care of travelers when they need help? Certainly not the Internet.
It also needs a complete rethinking – rather than following the mainstream – in order to find some great hideaways. For Europe, there might be a revival of traveling for holiday by car again, rather than taking trains and planes. Even though there are toll fees to be paid in many countries such as France, Italy, Spain, Austria, etc., and traffic is very dense on many highways, there always some great new discoveries en route.
The tourism industry needs new innovative ideas to create new packages that highlight safety and includes all sorts of assistance and useful options.
Emerging destinations are nice, but right now we have to fight with emerging demands for security.