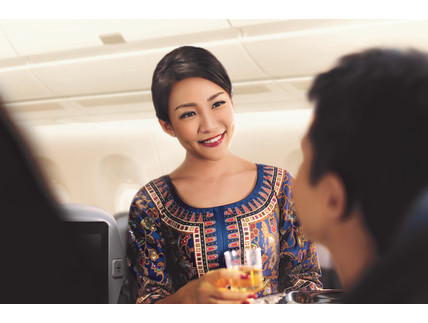 Singapore Airlines (SIA) has just started flying between Copenhagen and Singapore again, and as of June 30, Changi Airport in Singapore has opened for transit for passengers from Denmark.
As of today, June 30, it is again possible for travelers from Denmark and for example Germany to travel via Singapore to the coveted Southeast Asian destinations. There are still restrictions on entry in many of the Southeast Asian countries, Australia and New Zealand, but for family members, exchange students and certain business travelers, the opening for transit is even very welcome.
"Many families and boyfriends have been barred from visiting each other for months. With today's reopening for transit at Changi Airport in Singapore, the opportunities to be seen are significantly increased," says Allan Hoffery, Nordic Sales and Communications Manager at Singapore Airlines. He continues: "We and the airport have introduced many new and improved procedures that ensure the health of travelers as much as possible. And we are seeing a steadily rising demand for travel again now. Both family and business related."
SIA has launched a number of initiatives in the health and safety field and further improved and expanded existing procedures related to passengers' overall travel experience. The purpose is to ensure an overall travel experience, with maximum regard for both safety and health throughout the journey.
SIA has gathered all information about the measures in an e-brochure covering both booking, purchase, airport, check-in, time spent by passengers on board and arrival. The information is sent to all SIA passengers before departure.
Singapore Airlines Chief Executive Officer Goh Choon Phong: "The measures ensure that we are also the leader in our field of health and personal safety. At a time of COVID-19 virus, it is essential that our customers trust we have taken every possible action that contributes to a comfortable and safe journey. "
"We are also working on several digital initiatives that make travel easier, easier access to entertainment and at the same time contributing to increased personal safety. We thereby meet the new expectations and wishes expressed by our travelers."
Increased focus on hygiene
SIA has increased cleaning in all areas of the company, including Silver Kris lounges at the airports. In future, travelers can enjoy a la carte meals in all lounges where SIA staff wears masks and gloves if required.
All aircraft also undergo an optimized pre-departure cleaning and disinfection process. Disinfection is carried out according to the requirements of the authorities. All surfaces and areas such as windows, tables, controllers, screens, toilets, cabinets and cabinets are wiped with approved powerful disinfectant. All headsets, pillowcases, linen, blankets etc. replaced and washed after each flight.
Ceiling-to-floor airflow in the cabin limits the possibility of spreading bacteria and viruses. The air is cleaned and replaced every two to three minutes. All of SIA's aircraft have High Efficiency Particulate Air Filters (HEPA) that remove more than 99.9% of airborne particles, including airborne viruses and bacteria.
The toilets on board almost all SIA aircraft have contact-free operation and anti-bacterial washbasin. The SIA also investigates the possibility of testing ultraviolet light (UVC) cleaning before each departure.
On-board service is optimized
All travelers with SIA receive a small personalized kit with a medical face mask, anti-bacterial wet wipes and hand wipes. This is just an added security for the many passengers who worry about contagion risk in these times.
SIA's e-library replaces all of the newspapers and magazines that were previously in the seat pocket. The e-library is found in the SingaporeAir app and provides access to more than 150 international newspapers and magazines, etc.
The company also offers the world's first Companion App that allows its customers to manage the KrisWorld entertainment system via their own smartphone.
Staff on board wear face masks throughout the flight, goggles in the direct interaction with passengers and gloves when meals are served. Of course, the staff can also assist and assist the passengers and keep a watchful eye on everyone's conducting considerate behavior.
Meal service is customized
SIA has adapted the on-board service to reduce the number of unnecessary contacts between staff and passengers. A snack bag is served within Southeast Asia and on flights to China.
On long-haul trips, a full meal service has been introduced at First Class and Business Class. Serving replaces the classic three / four-step serving.
In order to increase the joy of food on board, SIA is reintroducing some of the travelers' favorites such as the signature dish satay skewers and garlic bread from mid-June 2020.