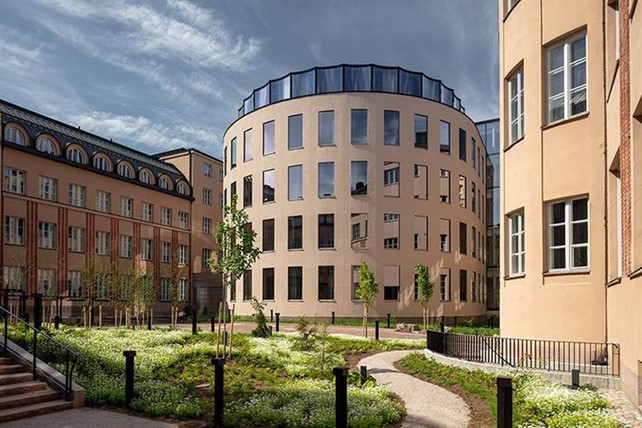 Scandic Grand Central is ready
The Helsinki Central Railway Station, and its administrative buildings, are amongst Eliel Saarinen's most important achievements in Finland and a masterpiece of Finnish art nouveau. The building, completed in 1919, has been listed amongst the most beautiful railway stations in the world and one of the most visited architecture destinations in Finland. Only a few years after the railway station was completed, Saarinen won second prize in the competition to design the Chicago Tribune skyscraper and thereafter moved permanently to the United States. Later his son, Eero Saarinen, continued the family´s triumph of iconic terminal buildings by designing JFK airport's TWA Flight Center (Terminal 5) in 1962.
Scandic Grand Central Helsinki is located in the old administrative buildings of the Helsinki Central railway station. With its 500 rooms together with meeting and banquet facilities, Scandic Grand Central is among the largest hotels in Finland and true to its its late Art Nouveau roots. The project consisted of the restoration and adaptive reuse of administrative buildings and the contemporary addition that completes the stations north
The new plan honours the logic of the original station: for example, the layout of the new building follows Eliel Saarinen's principle of an indented façade and leaves the ends of the original building in plain sight.
Many design details are inspired by Eliel Saarinen's original plans and applied to modern features such as street level and top floor arch windows. The wall materials imitate the Railway Station's facade with a mix of concrete and red granite to add to the building's grand appearance.
Saarinen himself might not have minded the repurposing of the administrative parts of the building, because back in 1918, he already had a masterplan for Helsinki's city center. In this plan, Saarinen proposed moving the railway station two kilometers to the north, and outlined the growth of Helsinki on a European level as a metropolis with boulevards and monumental buildings. The plan was never realized and the railway station quickly became an iconic symbol for the whole of Helsinki.