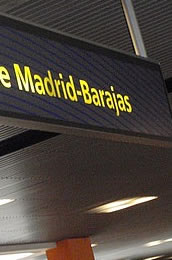 Holidaymakers to Spain face more disruption as staff at 25 airports vote for strike action until the end of this year.
Workers, protesting against conditions and low pay, are planning 24-hour stoppages on 25 days between September and December. Airports due to be affected include include Palma, Alicante, Madrid, Tenerife, Gran Canaria and Barcelona.
Car park staff, bag handlers, security, IT, retail and catering staff have all voted to join the industrial action, which is scheduled for five days in September, seven in October, two in November and 11 in December.
The December dates include five consecutive days from December 26-30, designed to cause maximum disruption over Christmas and New Year. The September dates are 15, 17, 22, 24, and 29. Spain's three main workers unions – USO, CCOO and UGT – are in dispute with airport operator AENA. The vote comes as strikes continue at Barcelona's El Prat airport, causing long queues at security controls. Police had to be drafted in to deal with the chaos.